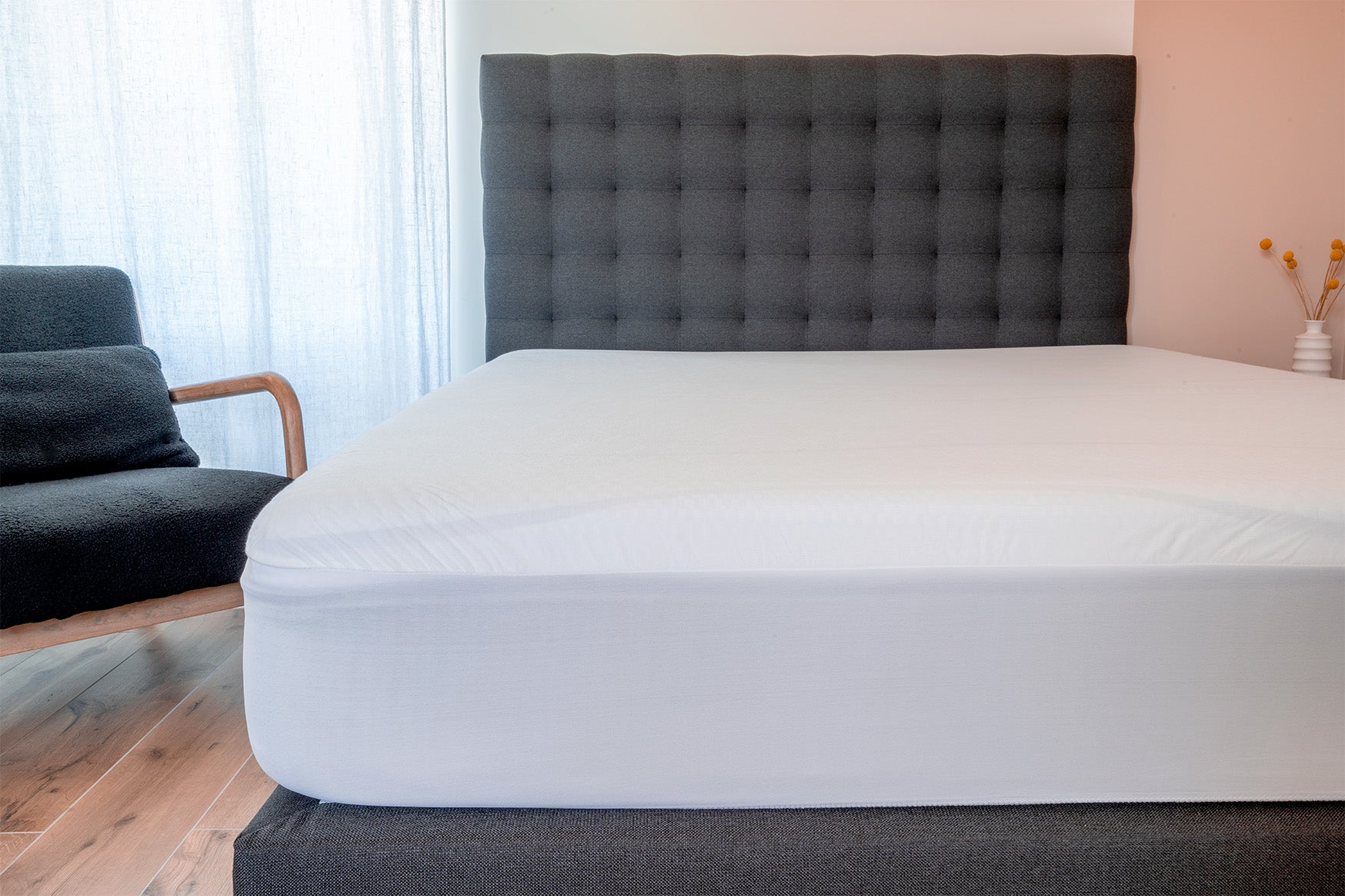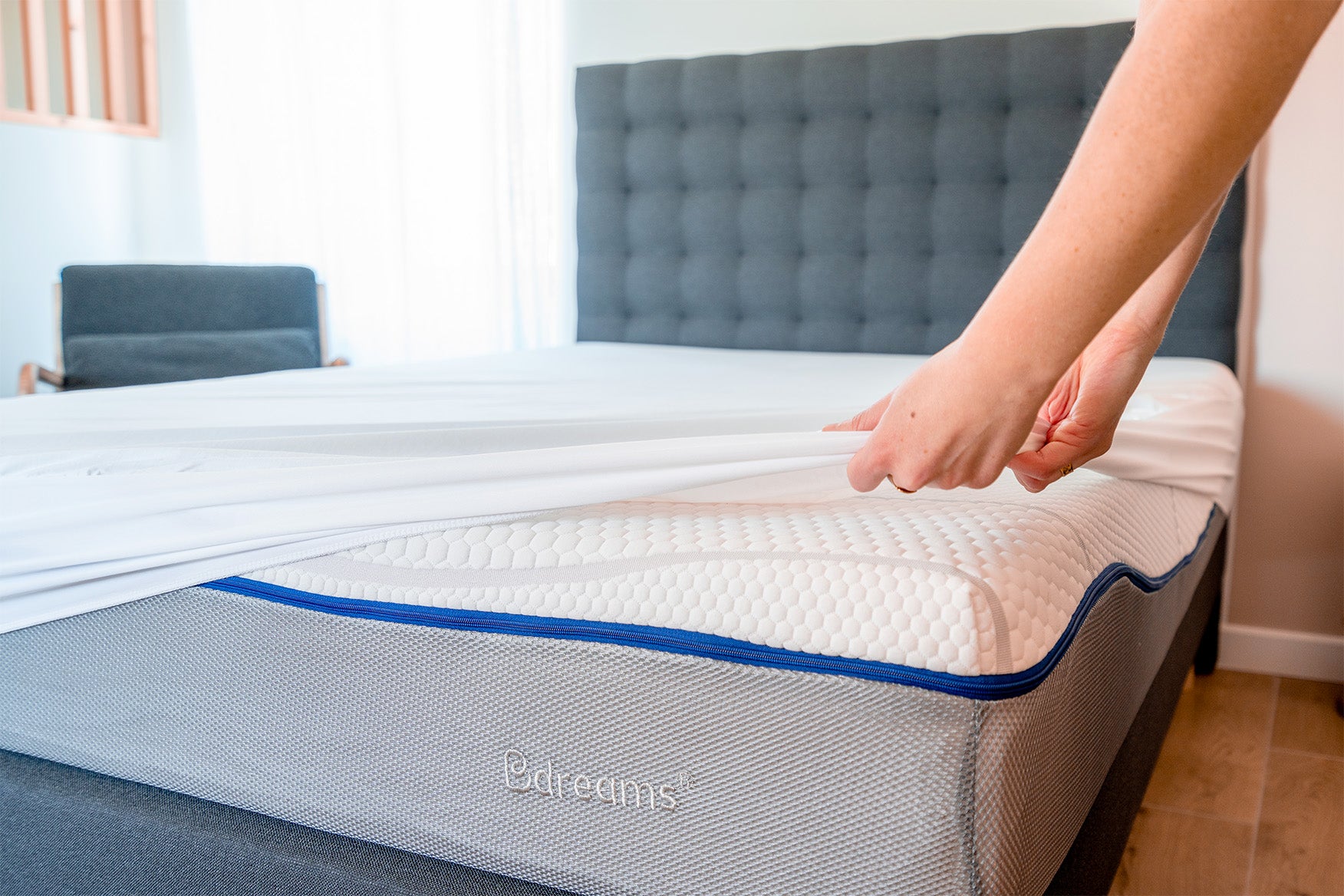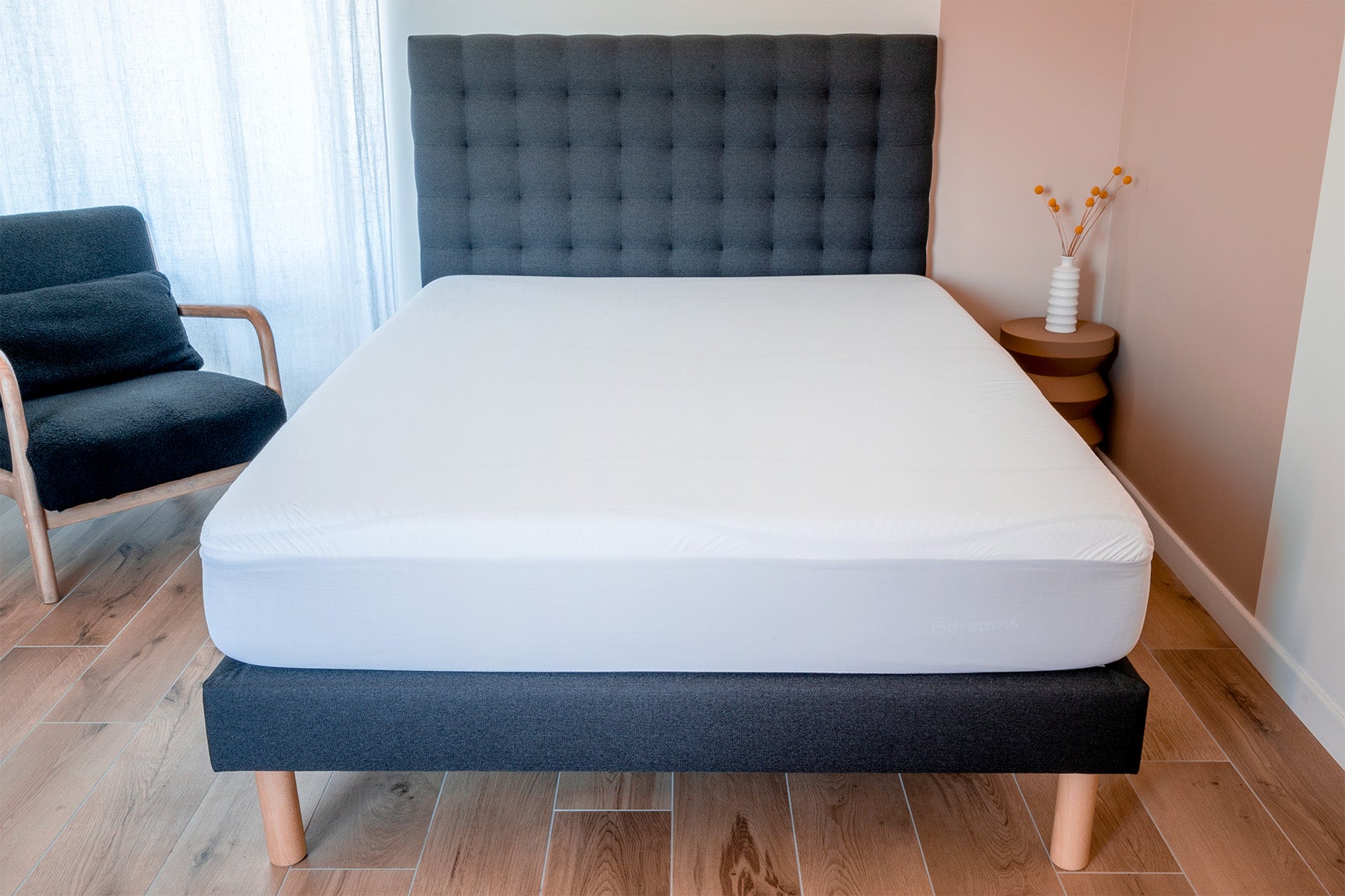 Waterproof fitted sheet White
Because our mattresses and mattress toppers deserve the best, we have made the ideal mattress protector!

Hypoallergenic

Protective barrier against dust mites, bacteria and fungi

Designed without harmful substances

It is recommended for people with allergies. Waterproof and breathable, natural and durable surface, thermoregulating, it allows excellent breathability and a natural barrier against liquids. Double use, mattress pad and fitted sheet, it is the ideal ally to protect your bedding!


Available in several sizes.
No need for a fitted sheet, being 2 in 1 it is used alone, simply wash it more regularly!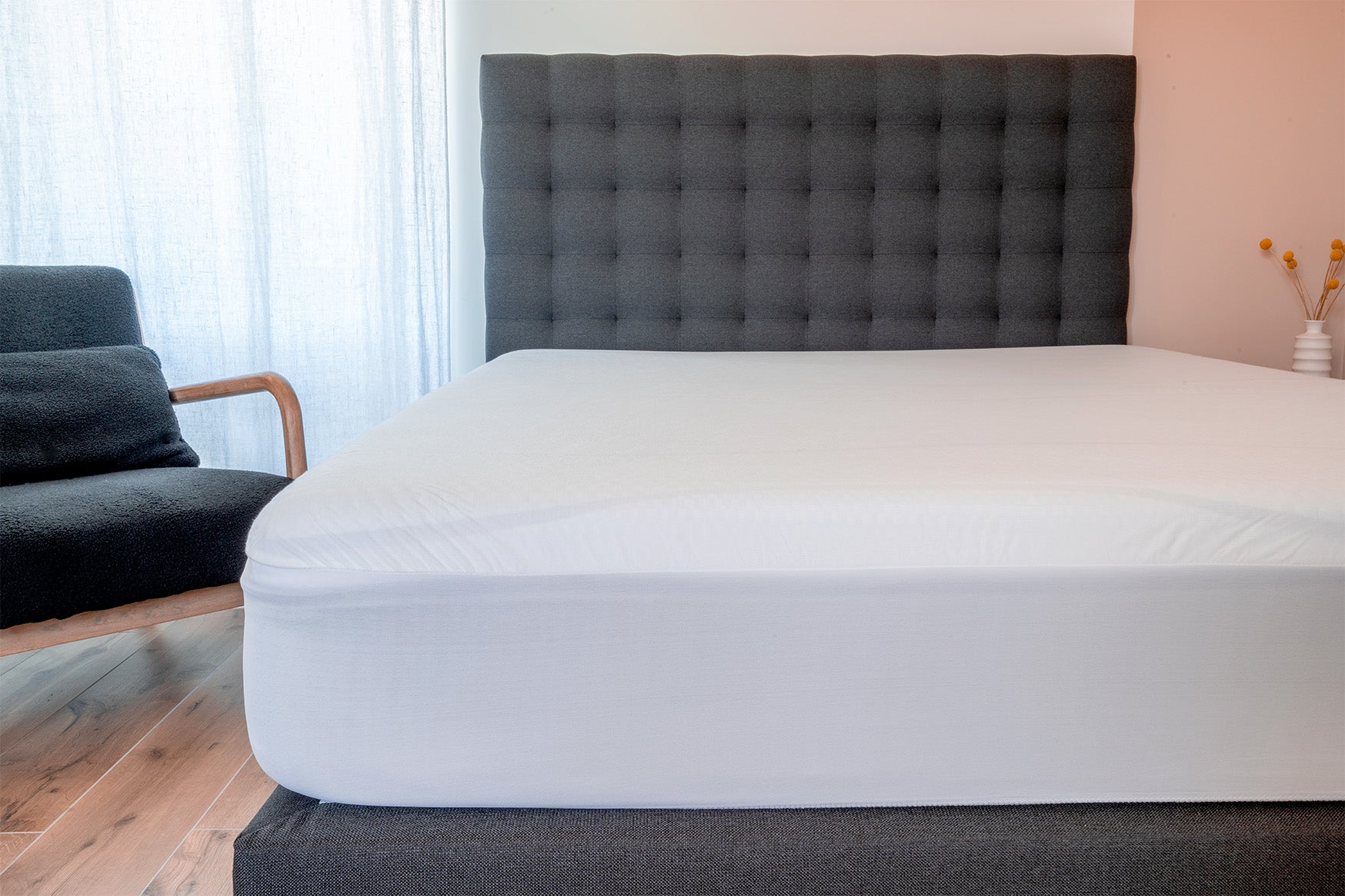 This product is rated 4.9 of 5.0 stars.
It has received 9 reviews.
Drap housse imperméable blanc
SUPER :
S'adapte très bien ne glisse pas sous le drap,
Très facile à mettre.
Si bien que j en ai acheté un autre.
Merci pour votre avis et votre confiance !
Drap housse et protégé matelas 2 en 1
Drap housse qui enveloppe parfaitement les matelas epais très doux, je recommande.
Facile à installer
Super pratique et très bonne qualité !
Je conseille avec le surmatelas.
Merci pour cet avis, faites de beaux rêves !
Drap housse imperméable
Très satisfaite de cet achat.Bien enveloppant le matelas et le sur matelas.
Nous vous remercions pour votre avis !
Drap housse
Livraison rapide, emballage soigné. Je n'ai pas encore pu l'essayer, car je l'ai reçu en même temps qu'un surmatelas que j'ai l'intention de changer. Ceci étant dit , je recommande Bdreams et remercie toute l'équipe pour sa gentillesse et son professionnalisme.
Achat oreiller
Très agréablement surprise par cette boutique Bdreams. J'ai acheté deux oreillers : le mémoire de forme et le microfibre. La livraison a été extrêmement rapide et très soignée. Après quelques nuits d'essai, nos avis sont unanimes : ces oreillers sont excellents et répondent parfaitement à nos attentes ! :-)
De plus, le service client est juste extra ! Un appel pour savoir si la commande a bien été réceptionnée, des échanges sur la fabrication des produits... C'est rare de nos jours !
Merci BDREAMS !
Merci beaucoup pour ce très bel avis, en espérant que les oreillers vous conviennent toujours autant ! A bientôt !
Protège matelas 2 en1
Qualité irréprochable, très pratique et matière très agréable. Pas besoin de drap house par dessus.
Merci beaucoup pour votre avis !
A découvrir absolument
Très bonnes accueil
A l'écoute des besoins
Produits de qualité et tarif correct
De très bon conseils
Souriant et sympathique
Toute l'équipe vous remercie ! A bientôt !
For further
The waterproof fitted sheet was designed by our team and designed in Spain with our long-standing partner manufacturer. It completes our range of bed linen, a constantly evolving range consisting of a duvet, pillowcase, and a silk night mask.
What is the composition of the sheet?

100% Lyocell (TENCEL) fabric: the surface of the fabric is of natural origin without any harmful substance.
100% Polyurethane Membrane: The polyurethane membrane prevents liquid from penetrating inside the mattress topper/mattress.
100% Polyester Cap: Fully elastic, it adapts perfectly to the mattress topper/mattress.
Does it fit all mattresses?

Sheet 2 in 1: fitted sheet + mattress protector.

Adapts perfectly to the mattress and is as imperceptible as a second skin. Preserves the qualities of the mattress, while taking care of the skin. Adapts perfectly to the protected product and hugs it closely without creases, the 30cm cap allows you to integrate an additional layer such as a mattress topper .

Please choose the exact size of your mattress.
Machine washable up to 60°C and dryable at low temperature.

Important: do not iron. Bleach prohibited.

We recommend washing every month.
How many years is it guaranteed?

All Bdreams® bed linen products are guaranteed for 2 years , a commercial guarantee covering any material or manufacturing defect.

This warranty takes effect from the date of delivery.

The products sold are also covered by a commercial guarantee aimed at guaranteeing their conformity and ensuring the reimbursement of the purchase price, the replacement or repair of the goods. It does not cover defects caused by abnormal or faulty use or resulting from a cause unrelated to the intrinsic qualities of the products.

For more information, go to the general conditions of sale .
How does the return go if it does not suit me during the trial?

Like all products in the bed linen category, we offer a 14-night trial from the date of delivery. If the product still does not suit you after 14 days, we offer you the return!

You will be refunded in full within 24/48 hours after receipt of the mattress in good condition.

For more information, visit the FAQ page .
Very satisfied with this purchase. Well enveloping the mattress and the mattress topper.
Impeccable quality, very practical and very pleasant material. No need for a house sheet over it.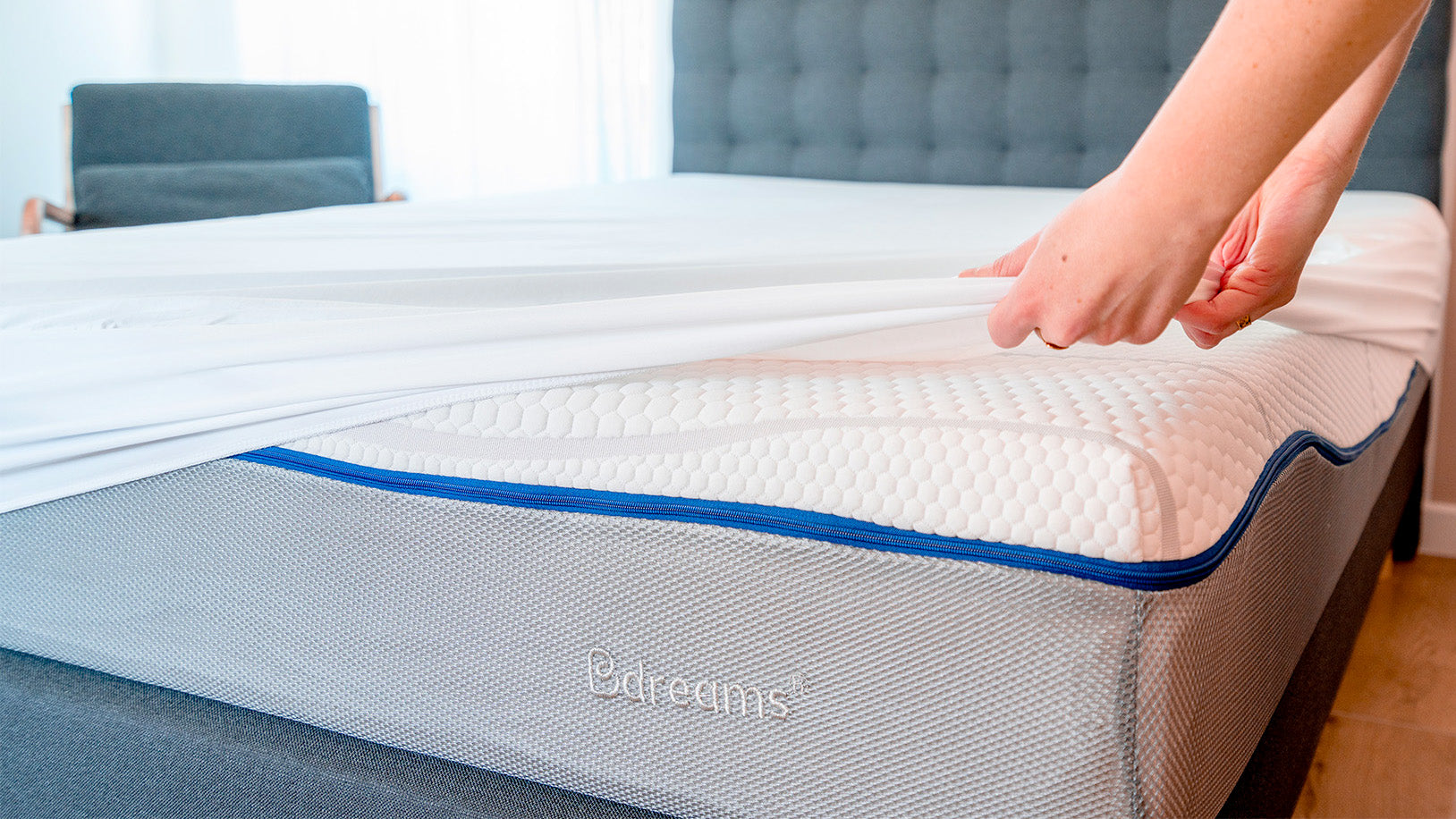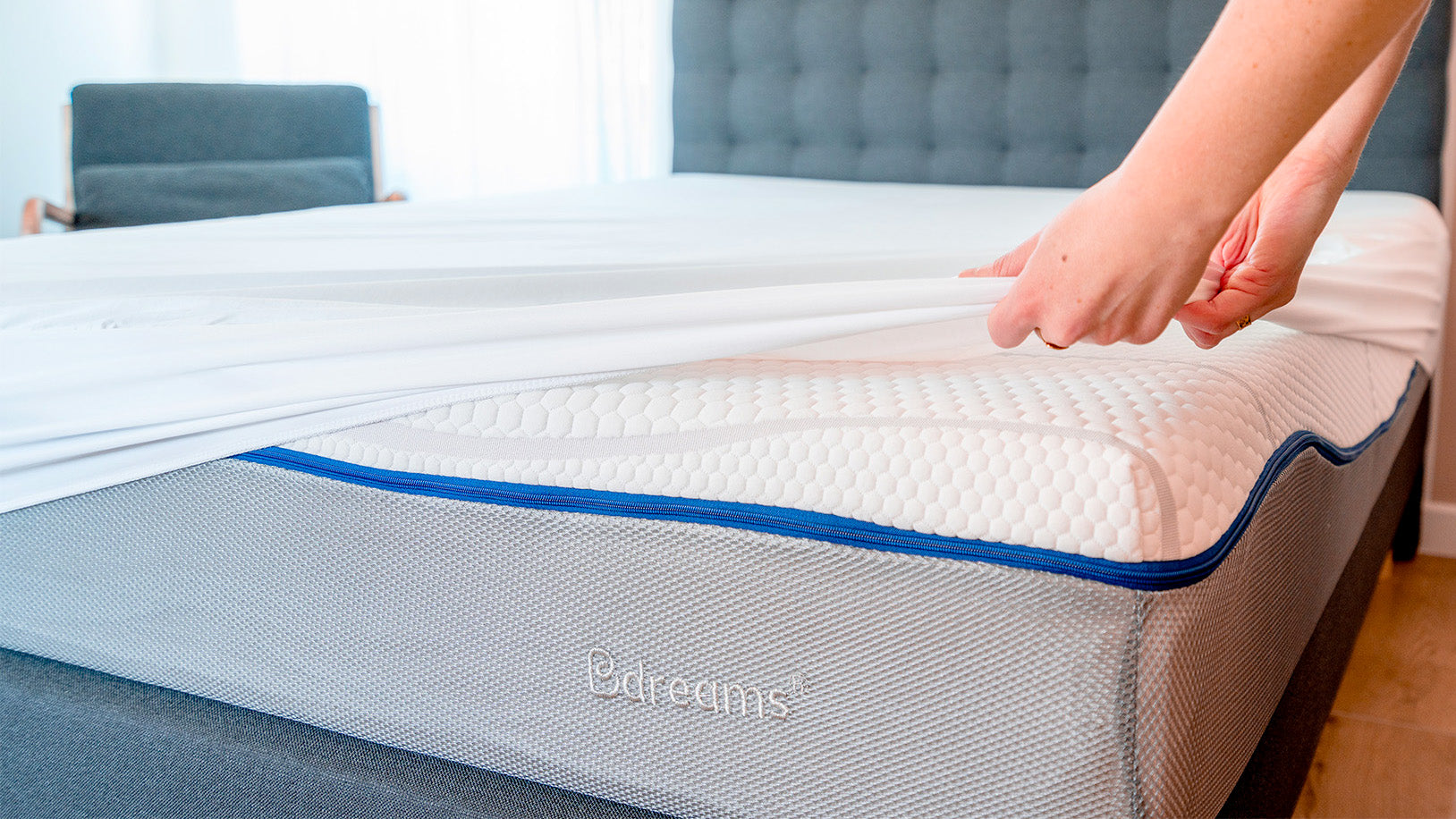 Hypoallergenic surface
A protective barrier against mites, bacteria, fungi, designed without harmful substances. It is recommended for people with allergies.
Waterproof and breathable
Double use, mattress pad and fitted sheet!