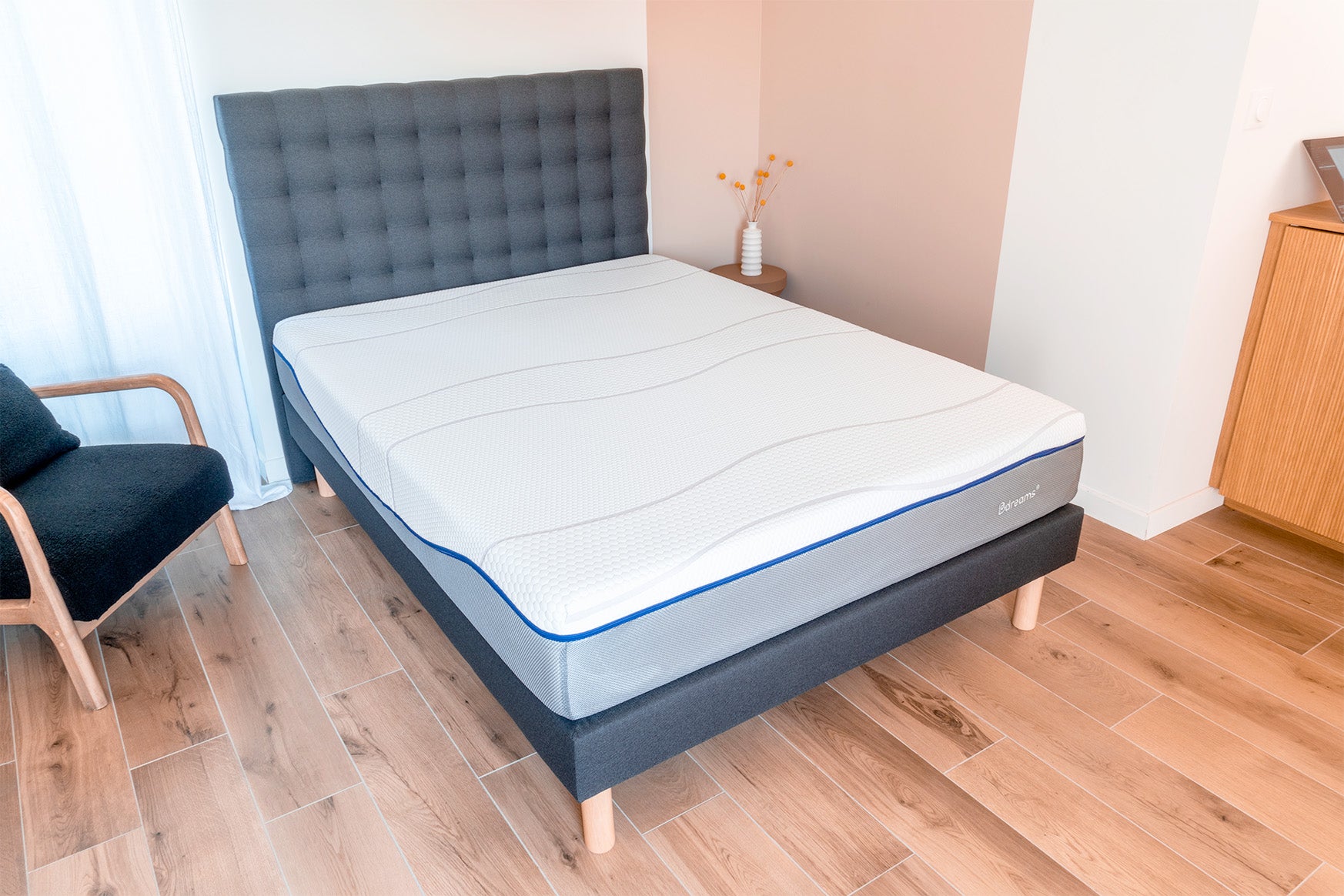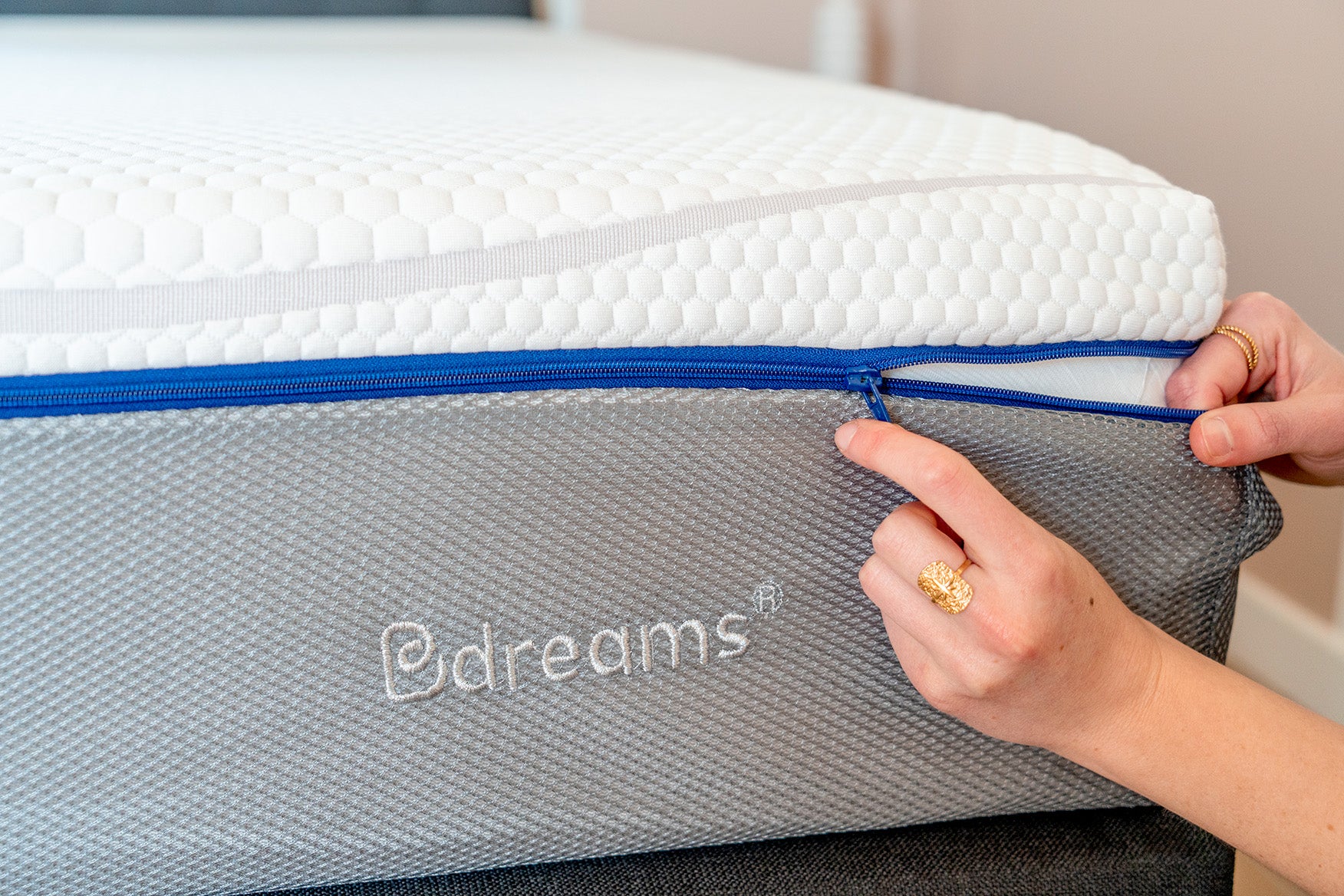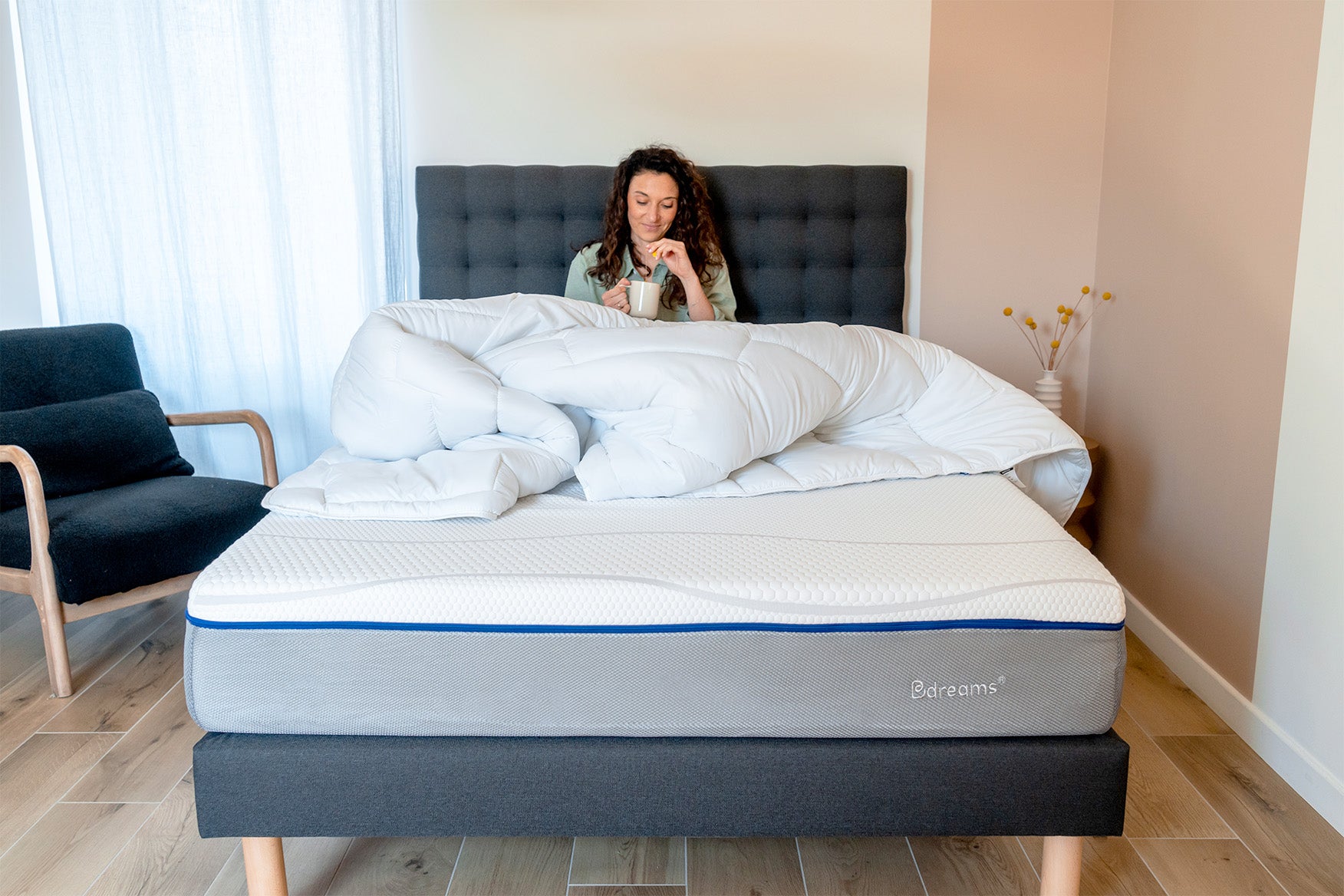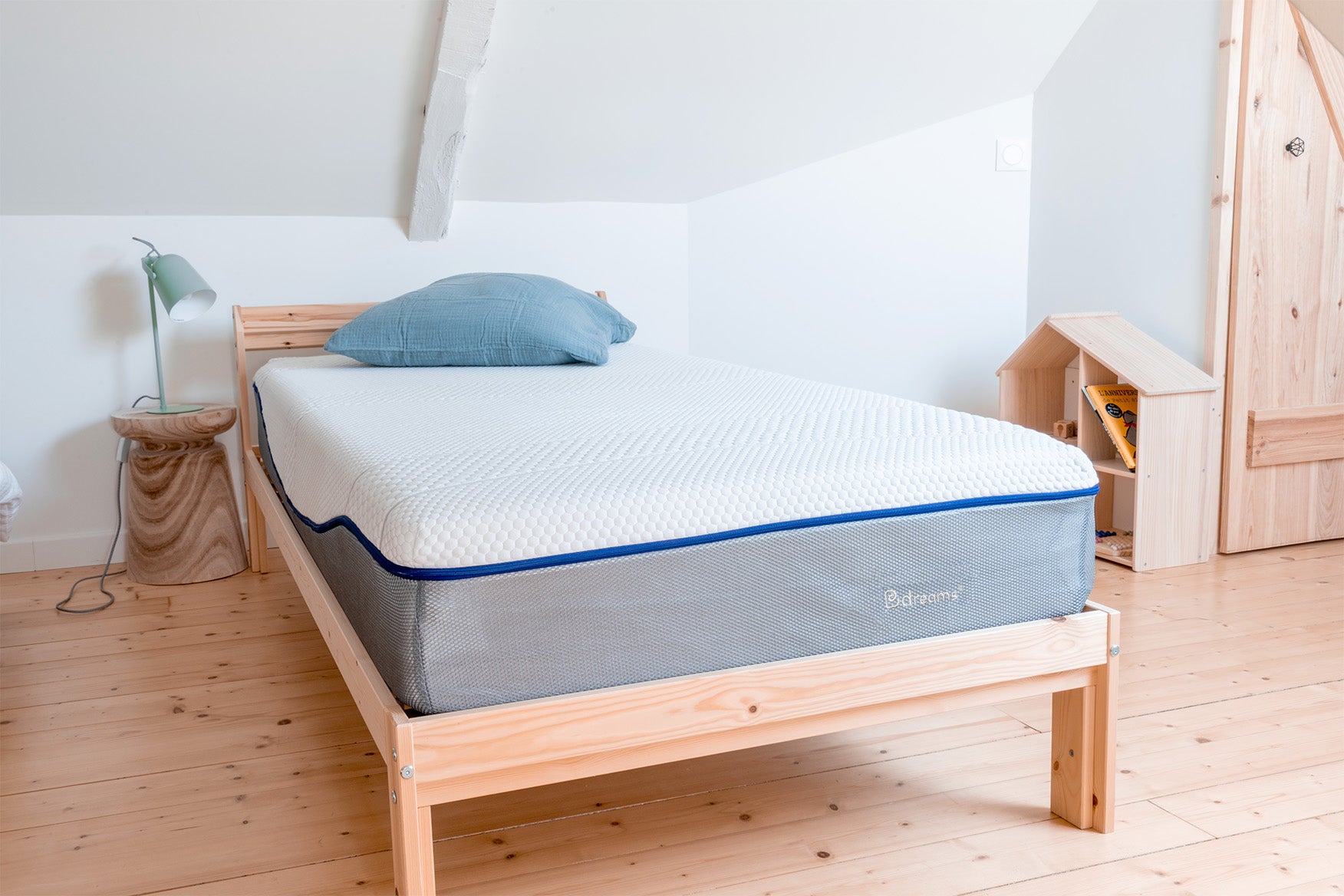 Universal morphological mattress
---
The Universal Mattress is a high quality mattress ideal for all body types.

Composed of 3 layers of breathable foam, its reception layer is made of a soft and soft foam, its intermediate layer is made of an enveloping memory foam, and its support layer is made of a high foam firm resilience. Its total thickness is 24cm, offering incomparable soft comfort.

With its 360° zip, its cover can be easily removed and washed. The Universal ergonomic mattress is adaptable to all bed bases.
Add a memory foam pillow for the perfect combination!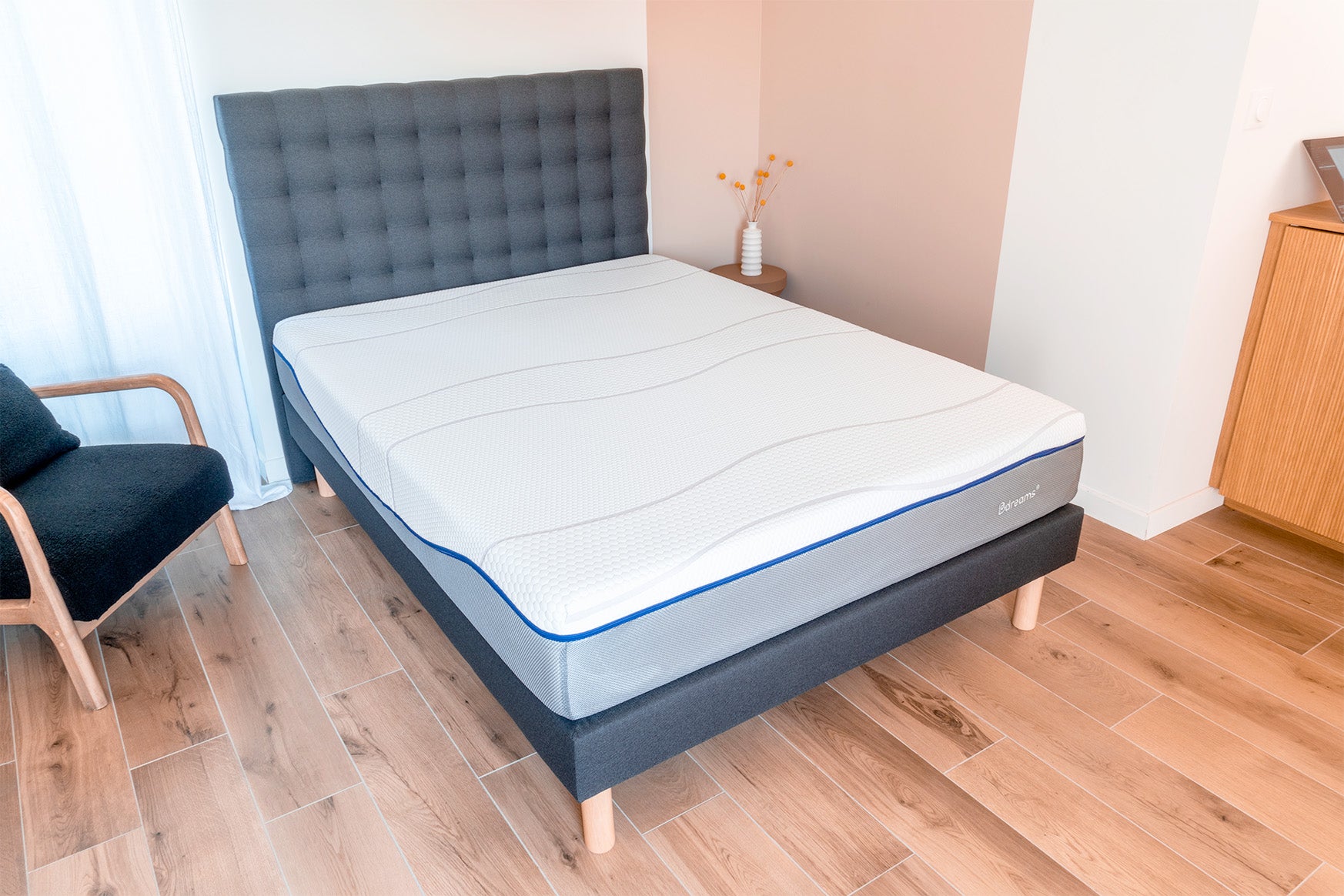 For further
The Universal mattress was designed by our team and designed in Spain with our long-standing partner manufacturer. It completes our range of mattresses , a reduced range made up of mattresses that meet the needs and morphologies of each sleeper.
What is the composition of the Universal?

The 'Universal' mattress is made up of a stretch fabric envelope and a block of three different high quality foams, for a total thickness of 24cm.

The mattress cover is made of a white fabric with 85% polyester and 15% elastane. A white zipper for easier removal of the mattress cover. A blue 3D Spacer fabric is present on the lower part of the envelope for better breathability of the foam as well as better grip on the bed base.

Non-contractual photo: the design of the envelope has evolved in 2022, the 3D fabric is now gray with a blue zip


The core of the 'Universal' mattress is made up of three different foams:

On the surface, an Air Plus Bdreams® foam 4 cm thick, with a density of 35 kg/m3, providing a soft and slightly plump welcome, while regulating body temperature very well.

In the center, 4cm of memory foam (viscoelastic) with an ideal density of 52kg/m3, thus providing a better distribution of pressure points on the parts of the body: hips and shoulders. On the other hand, it offers excellent sleeping independence: when one moves or turns, the other person will feel their movements less.

In the lower part, a 16cm high resilience polyurethane foam with a density of 40kg/m3, which provides firm and progressive support for the spine, whatever the weight of the sleeper. It allows you not to sink while releasing pressure from the hips and shoulders.
Which bed base does it fit?

The box spring is an important element for your mattress.

Its primary purpose is to ventilate and maintain your mattress. Ventilation is essential for better breathability of your bedding so it preserves your mattress. A box spring is an important element to maintain your bedding and will allow a better life of your mattress.

There are different types of box springs:

The slatted frame (the least expensive) metal frame with wooden slats.
The box spring (the most popular) in wood (beech or fir) more solid with thick slats. Covered with a fabric of the customer's choice, it also incorporates a gripping surface for the mattress and a non-woven fabric (bonded fibres) so that dust cannot enter the bed base.
The spring bed base and the electric bed base, both specific in their uses.

The lifespan of a box spring is on average 10 years, so it is important to check its condition when buying a new mattress.

Thanks to their thickness, Bdreams® mattresses naturally benefit from support, so they adapt to all types of bed bases.
What are the dimensions and weight?

The Universal mattress is 24cm thick, regardless of its dimensions.

Most common sizes:

Other sizes:

mattress 90x190 = 18.4 kg
mattress 90x200 = 17.7 kg
mattress 120x190 = 22.9 kg
mattress 140x200 = 27.5 kg
mattress 180x200 = 35.1 kg

The weight indicates mattress + packaging.


Some indications for choosing the size of a mattress according to the morphology, whether for one or two people:

- A 90x190 mattress is suitable for 1 standard person. A taller sleeper can opt for a 90x200 mattress with a longer surface.

- A 140x190 mattress is suitable for 2 standard people. Sleepers wishing to have more space during their sleep can opt for a 160x200 mattress or even a 180x200 mattress .
How do I maintain my mattress?

Entirely removable, the stretch fabric envelope of the 'Universal' mattress is machine washable, delicate cycle at 30°C.

Important: remove the foam block before washing.

Our stretch fabric shell has a percentage of spandex, so air drying should be done. Forget the dryer.

We recommend washing the cover once or twice a year.
How many years is it guaranteed?

With the purchase of your Bdreams® mattress , you automatically benefit from a 10-year commercial guarantee covering any material or manufacturing defect, such as abnormal deformation of the foam.

This warranty takes effect from the date of delivery.

The products sold are also covered by a commercial guarantee aimed at guaranteeing their conformity and ensuring the reimbursement of the purchase price, the replacement or repair of the goods. It does not cover defects caused by abnormal or faulty use or resulting from a cause unrelated to the intrinsic qualities of the products.

For more information, go to the general conditions of sale .
How is the return if it does not suit me during the trial?

We offer you the opportunity to try the mattress for 100 nights from the date of delivery. If the mattress still does not suit you after 100 days, we offer you the return!

You will be refunded in full within 24/48 hours after receipt of the mattress in good condition.

Don't worry about anything and make the most of your mattress !

For more information, visit the FAQ page .
With your Universal mattress, morning pains and tired old mattresses are gone. A big thank you to you who allowed me to find restful nights.
Perfect ! RAS Excellent mattress 👍
Universal and Soft mattresses, the two go really well together, it's incredible! Customer service ++++ recommended and delivery at the top in all - 24 hours to be delivered! Satisfied thank you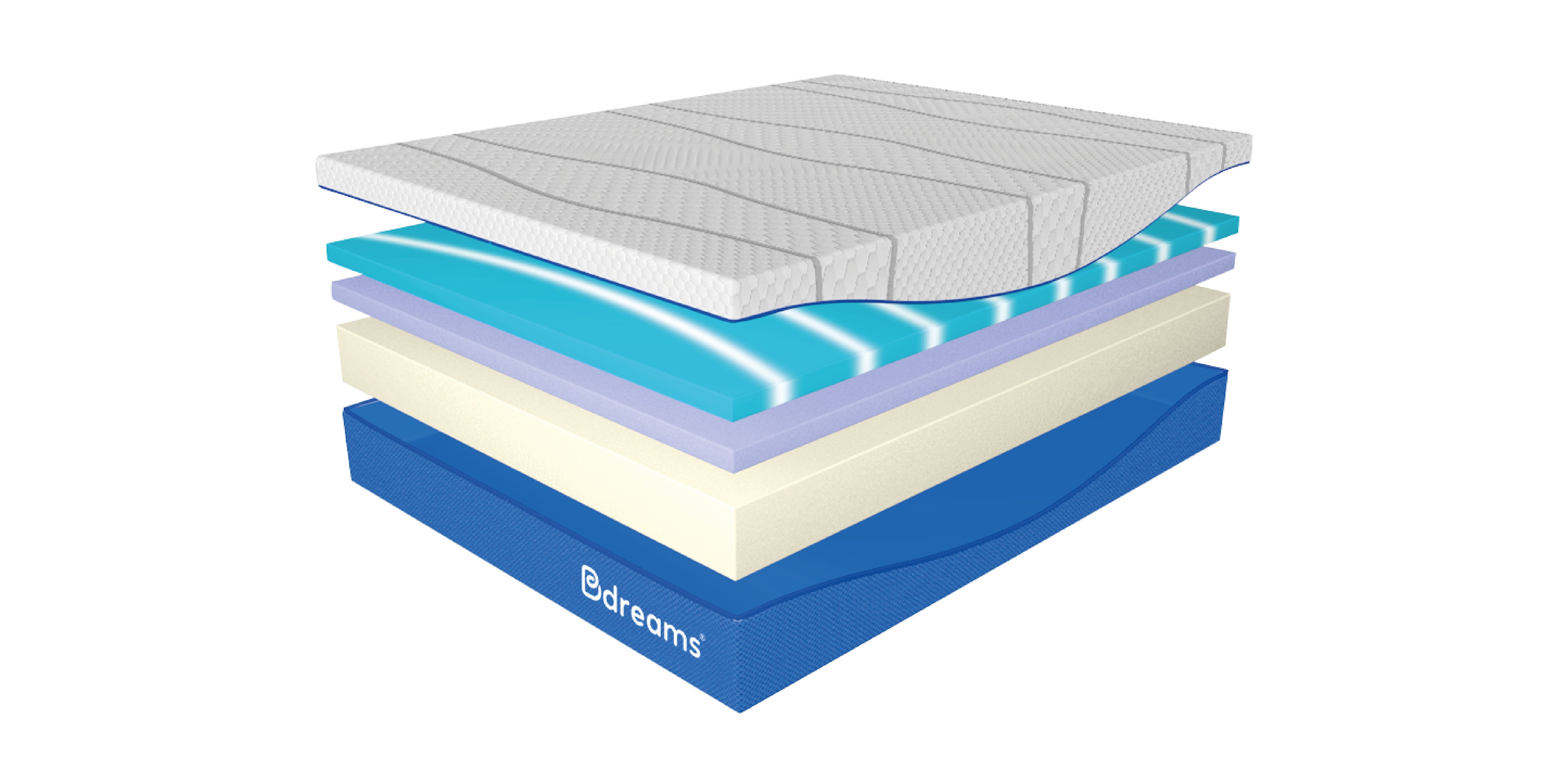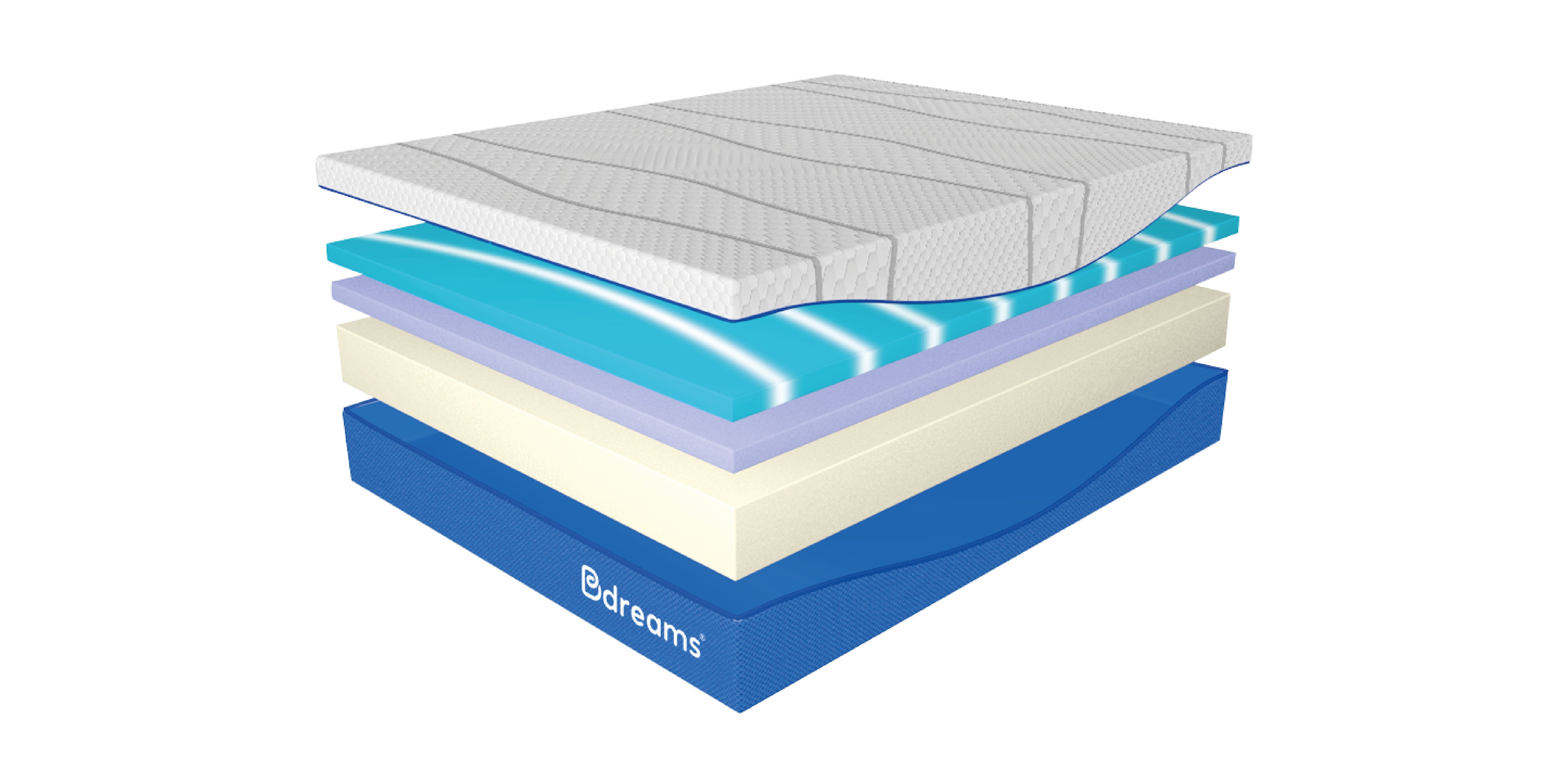 Zipped cover and 3D fabric
Allows better breathability of the foam as well as better grip on the bed base
Elastic stretch fabric
Ideal for tracking body movements
16cm high resilience polyurethane foam
Soft support block with ideal support for the spine
Air Foam Over 4cm
A soft welcome that regulates body temperature
4cm Memory Foam
Reduces pain on hip/shoulder pressure points and envelops the body
Nothing is left to chance
This product is rated 4.9 of 5.0 stars.
It has received 38 reviews.
Le matelas universel, quel BONHEUR !!!
Déjà, je tiens à vous remercier pour votre accueil téléphonique très sympathique.
Suite aux renseignements que vous m'avez fournis, j'ai commandé votre matelas universel que j'ai reçu 24h plus tard (Seine et Marne).
De plus, vous m'avez contacté quelques jours plus tard pour savoir si j'avais bien reçu mon matelas. Démarche suffisamment rare pour être soulignée ici.
Pour les personnes intéressées, je précise que le matelas arrive compressé et roulé dans un plastique. Il faut donc le laisser à plat 12/24h pour qu'il retrouve son volume initial d'avant emballage.
Dormant sur le côté, j'ai mal aux points de contact (genoux, hanche, épaule) quand j'utilise un matelas trop ferme.
Avec votre matelas universel, envolées les douleurs du matin et le vieux sur matelas fatigué.
Un grand merci à Vous qui m'avez permis de retrouver des nuits reposantes.
Bien cordialement
Nous vous remercions pour ce très bel avis que vous avez pris le temps de rédiger et espérons que vos nuits sont toujours aussi douces ! A bientôt !
Commande Florian
Je recommande vivement. Matelas, oreiller et draps de très bonne qualité et excellent service client.
Super matelas - je recommande
Je recommande ce matelas, malgré mon poids lourd +100kg, il n'a pas bougé en 3 ans, pas la moindre cuvette. Passage en machine 1 fois par an de la housse, comme neuve.
Toute l'équipe Bdreams vous remercie pour votre message.
Nous nous réjouissons de savoir que votre expérience avec Bdreams fut bonne en tout point. Maintenant il ne nous reste plus qu'à vous souhaiter de belles nuits
Merci
Matelas 160x200
Matelas acheté en magasin directement, un accueil très professionnel et chaleureux. Le matelas osmoz après plusieurs nuits est très confortable, on est bien maintenu, un accueil moelleux avec une indépendance de couchage incroyable. Plus de douleurs aux cervicales pour l'instant avec l'oreiller ergonomique de bdreams. Je recommande le matelas, l'oreiller et même le drap housse qui fait également protège matelas (2en1).
Toute l'équipe Bdreams vous remercie pour votre message.
Nous nous réjouissons de savoir que votre expérience avec Bdreams fut bonne en tout point. Maintenant il ne nous reste plus qu'à vous souhaiter de belles nuits
Merci
Parfait
RAS . Excellent matelas 👍
LE MATELAS UNIVERSEL + LE SURMATELAS MÉMOIRE DE FORME
Acheter un matelas chez Bdreams ne nous a pas apporté que du confort, mais nous redonne foi en l'humanité. Il n'y a pas assez de mots pour décrire la gentillesse de Tristan et de son équipe, même si on a eu à faire très souvent à Tristan. 
Tristan fait parti de ces gens que j'appel des « perles rares », qui, quand vous les croisez, illuminent vos vies. 
Allez chez Bdreams c'est accéder au confort qualité, humanité, solidarité, écoute, bienveillance, contact chaleureux…dans une situation de handicap très lourd, Tristan est un rayon de soleil. 
C'est précieux pour des personnes en situation de handicap pour qui l'accessibilité est une bataille au quotidien. Tristan a rendu accessible ce qui mettait inaccessible. 

Ça fait 5 ans qu'aucune solution ne m'avait été trouvée en matière de confort et d'adaptation pour ma santé moi qui suis à 80 % d'incapacité physique, en fauteuil roulant manuel et électrique, et suivi par une équipe médical et commercial dans une boutique adapté.  


Je suis atteinte de polypathologie du rachis : dysplasie isthmique, lombalgies, sciatalgies, scoliose dégénérative, discopathie dégénérative, périarthrite scapulo-humérale ( tendinopathie ).…entres autres fibromyalgie.


Mon seul traitement est le confort du matériel que j'utilise, le seul à pouvoir me soulager de souffrance extrême.


Le problème du couchage n'avait jamais été réglé, bien au contraire. Le matelas médicalisé que j'avais, ne faisait qu'aggraver mon état. 
Je redécouvre les grasses matinées grâce à Bdreams. 

Tristan a été d'une grande écoute, d'une patiente à rude épreuve, avec moi qui suis très très exigeante, à cause, de ma santé. C'était un défi qu'il a remporté haut la main. 


Je suis tombé par hasard sur la boutique en ligne Bdreams et le hasard a très bien bien fait les choses. 
J'ai conseillé le "matelas UNIVERSELLE" à mes parents qui en sont ravit et qui souffraient aussi de douleurs et à ma fille, porteuse elle aussi d'un handicap ( Arthrodèses Lombaire et Dorso-lombaire ).
Livraison hyper rapide, soignée. Bdreams mériterait 20 étoiles.
Toute l'équipe Bdreams vous remercie pour votre message.
Nous nous réjouissons de savoir que votre expérience avec Bdreams fut bonne en tout point. Maintenant il ne nous reste plus qu'à vous souhaiter de belles nuits
Merci
Matelas universel et sur matelas soft
Les deux vont super bien ensemble c'est incroyable! Service client ++++ recommandé et une livraison au top en tout - de 24h pour être livrée ! Satisfaite merci
Toute l'équipe Bdreams vous remercie pour votre message.
Nous nous réjouissons de savoir que votre expérience avec Bdreams fut bonne en tout point. Maintenant il ne nous reste plus qu'à vous souhaiter de belles nuits
Merci
Confortable
mon mal de dos. L'envoi du matelas a été rapide et très bien emballé.
Toute l'équipe Bdreams vous remercie pour votre message.
Nous nous réjouissons de savoir que votre expérience avec Bdreams fut bonne en tout point. Maintenant il ne nous reste plus qu'à vous souhaiter de belles nuits
Merci
Toute l'équipe Bdreams vous remercie pour votre message.
Nous nous réjouissons de savoir que votre expérience avec Bdreams fut bonne en tout point. Maintenant il ne nous reste plus qu'à vous souhaiter de belles nuits
Merci
Bon produit
Très bon matelas! Livraison rapide et bien protégé! Nous dormons bien dessus! aucun commentaire négatif! Nous recommandons