In partnership with Dormeur®
The weighted blanket
A weighted blanket to help you sleep better and feel calmer, naturally.
Enveloping the body in a soothing embrace, the Sleeper® Weighted Blanket uses the power of weight to relax the nervous system.
DISCOVER ITS BENEFITS
Comparative
Which pillow will be the most suitable?
Your sleeping position will be the key point in choosing the composition of your pillow. Then, the choice will be on an aesthetic point of view between a square or rectangular pillow. Find out which of our pillows is right for you!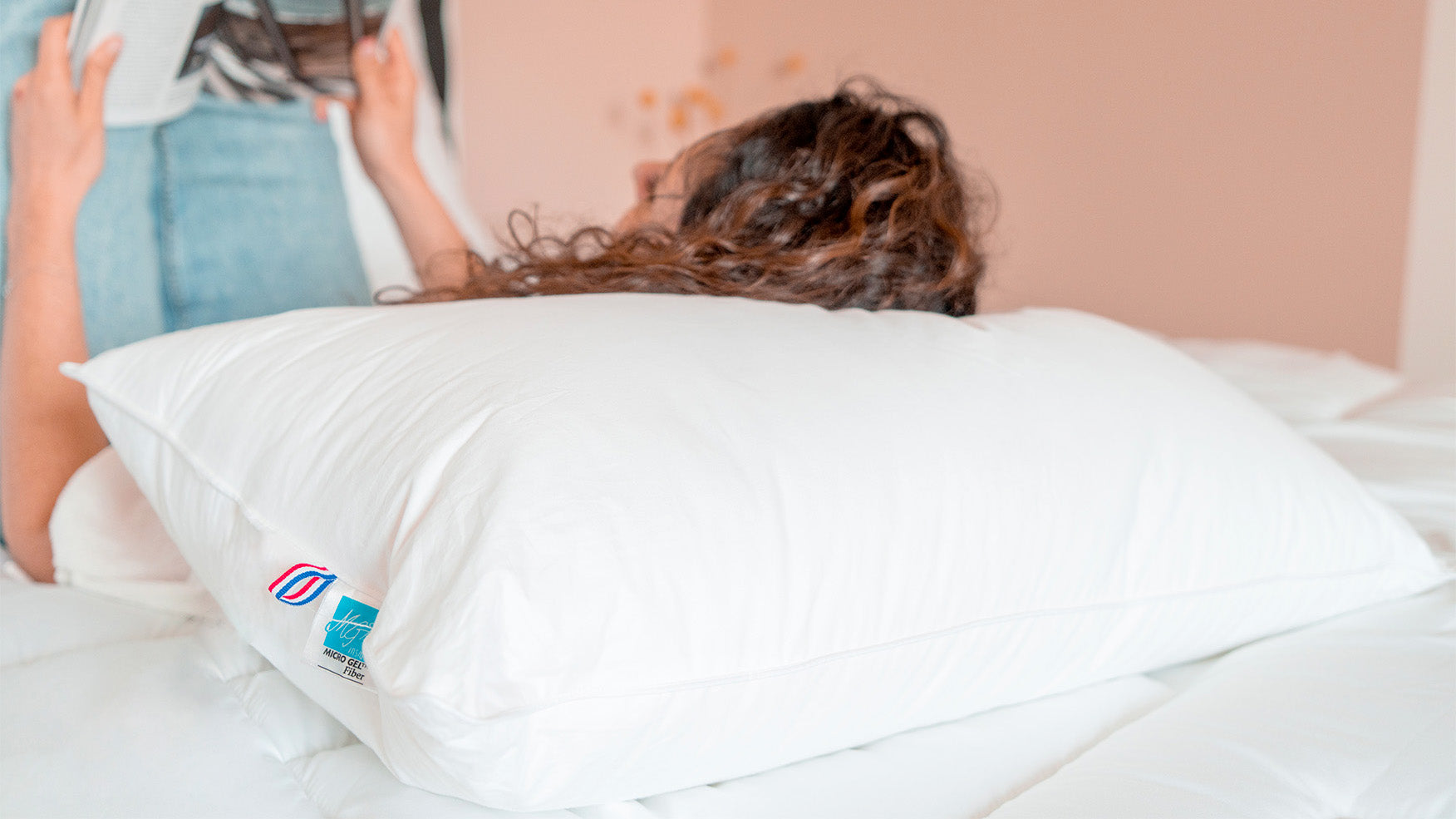 shape memory
Microfiber
Why choose the Bdreams duvet?

The Harmony duvet is the only Bdreams duvet, and for good reason, it is suitable for 4 seasons! No need to combine a summer duvet and a winter duvet, the temperate duvet is your best ally all year round. Beyond the OEKO TEX certification, it is also treated with Greensphere anti-dust mites and anti-bacteria .
How to choose your pillow?

If you're not sleeping as well as you'd like, check the condition of your pillow before buying a new mattress . The pillow certainly provides comfort, but that is not its only function. It supports the gateway between the brain and the central nervous system, and it's definitely the most delicate part of your spine. The pillow is the guarantor of the correct alignment of your upper body.

Two criteria should be taken into account when buying a pillow : the comfort you are looking for and the main position you adopt for sleeping. For the first, the pillow can be soft, firm or between the two. The type of support sought in a pillow will not be the same depending on your position.

If you sleep on your stomach, your head doesn't need too much support. You can then do without a pillow or choose one that is thin and flexible. The support you want is most important when you sleep on your side and the pillow should provide straight neck support. Finally, if you sleep on your back, your pillow should offer support that is neither too high nor too low.

When a pillow is well cared for, it will keep for up to 10 years depending on its quality and composition. Fatigue on waking, neck pain or a pillow that has lost its swelling, are all signs announcing that it is time to change it.

Bdreams offers you its 3 pillows to find a restful sleep: the Microfiber pillow, the Soft pillow and the Shape memory pillow.
What is the composition of Bdreams pillows?

The pillow Microfiber is composed of a checkered satin cover, 100% superior cotton. Its filling is in Microfiber, 100% polyester.
The Douceur pillow, 100% cotton percale, is filled with 100% MicroGel™ polyester, for a soft comfort weight of 800g.
Memory foam pillow is made of a 100% polyester cover. Its filling is a block of memory foam.
Where are Bdreams pillows made?

Our Douceur pillow is handmade in France, more precisely in Normandy. The workshop is located in the city of Varneville-Bretteville.

Our Microfiber and Shape Memory pillows are made in China, imported, checked at the end of the chain, as well as upon receipt at our premises in Brittany. The materials are specifically chosen by our expert buyers who are passionate about sleep in order to guarantee you excellent, comfortable and durable products over time.
What is the lifespan of a pillow?

In theory, the average lifespan of a pillow is 5 years. However, depending on the type of material and its quality, this period can be shortened to 2 years or, on the contrary, extended to 10 years. In practice, you are the one who is most able to feel if your pillow has lost its swelling power and if you feel less supported in the cervical area.

To find out if you need to change your pillow, you can do a little test:

Fold it in half and put a shoe on it. If it does not regain its shape, it is too old and needs to be changed. If it unfolds on its own, it's still good and just needs washing.

We are available by phone 0760202808 or chat Monday to Friday from 9:00 a.m. to 6:00 p.m.