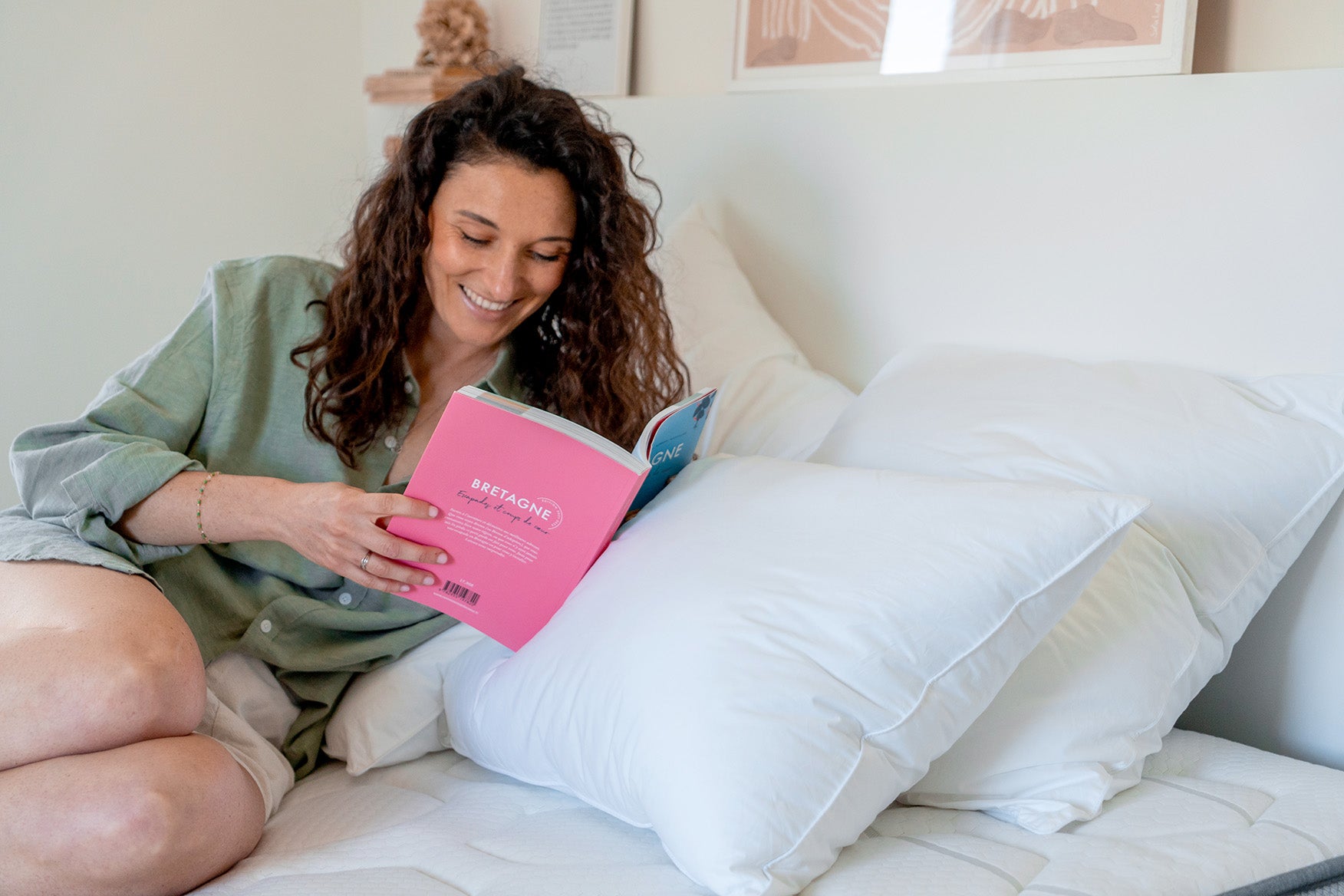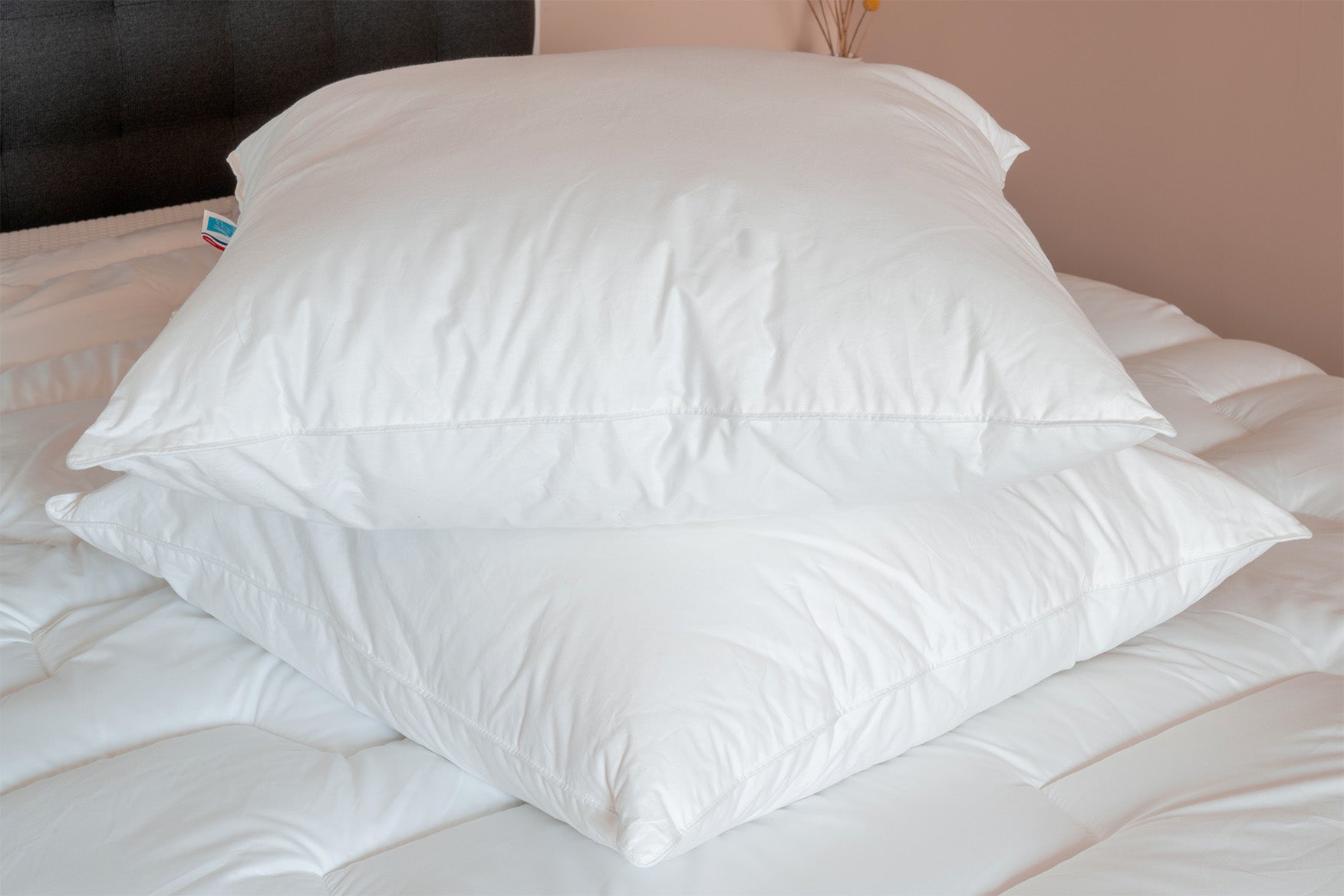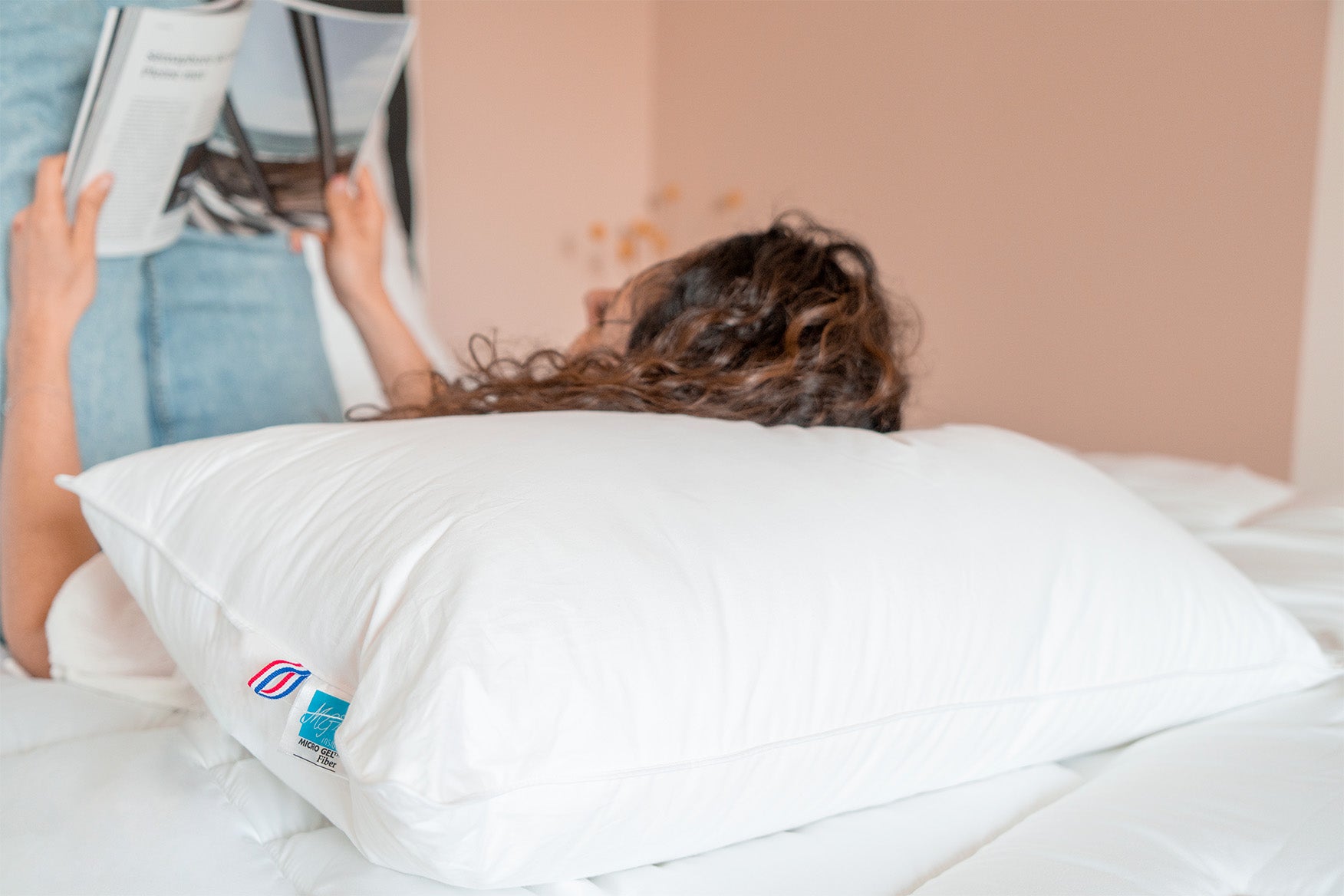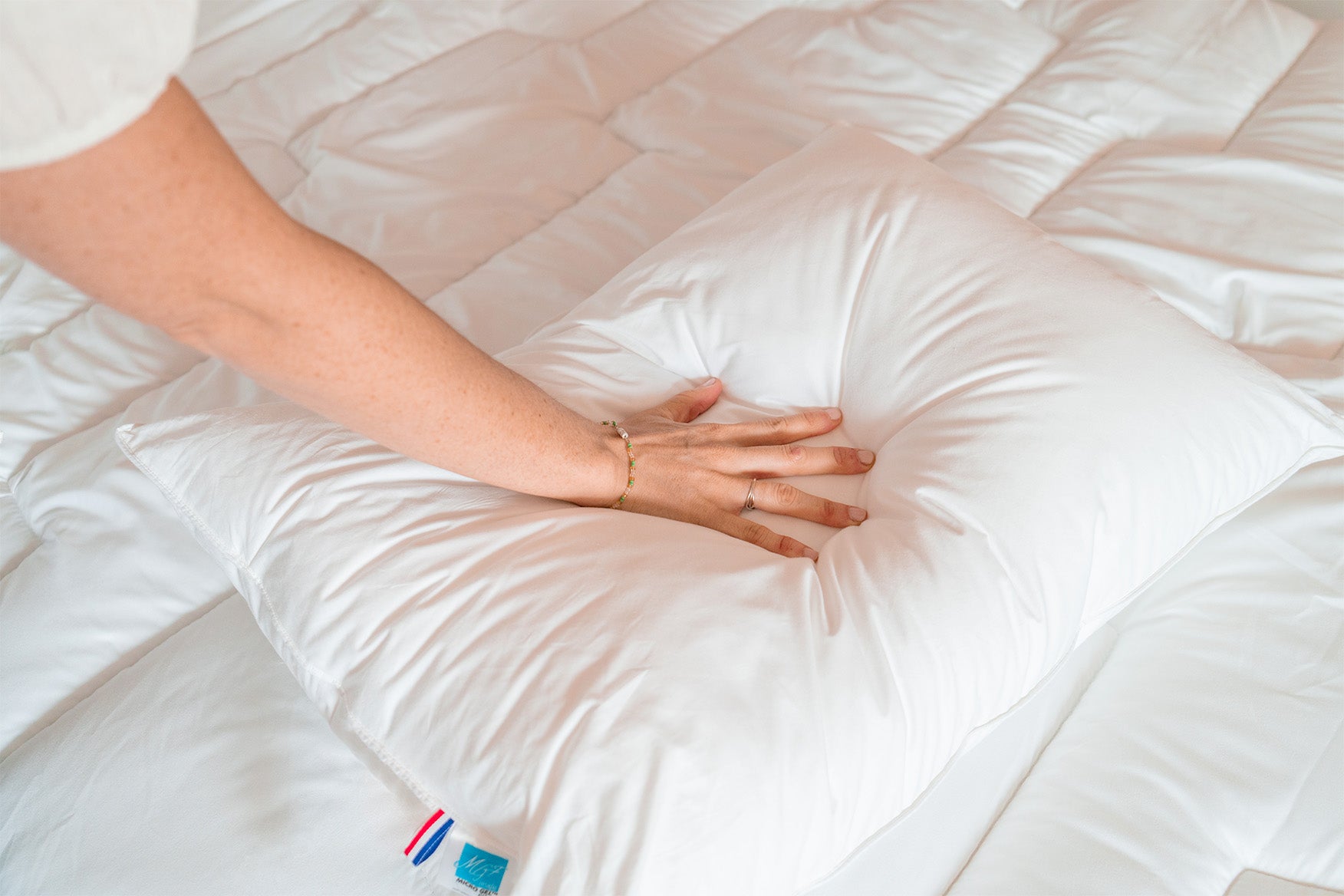 Soft neck pillow
Discover The Soft Pillow! Made in Normandy , its soft and resistant fabric will give you restful sleep for many years. Its delicate fabric and its down-effect Microgel fibers will adapt to your movements, whatever your posture: sleeper on your back or on your side, for ultimate comfort and ever softer sleep! Live a smooth night and wake up refreshed!

Available in square or rectangle format.
It is important to protect the pillow with a waterproof mattress pad to extend its life.
-20% ON DUVETS AND PILLOWS

For further
The Douceur pillow was designed by our team and designed in a workshop in Normandy. It completes our range of pillows, a pillow for every sleeping position to match every sleeper.
What is the composition of the Douceur pillow?

Cover: 100% cotton percale, 91 thread count
Filling: 100% Polyester MicroGel™
Filling weight: 800g soft comfort
Only available in 65x65cm
How do I care for my pillow?

Machine washable at 30°C on delicate cycle with a tennis ball.

We advise you to wash it once a year.
How many years is it guaranteed?

With the purchase of your Bdreams® pillow , you automatically benefit from a 2-year commercial guarantee covering any material or manufacturing defect, such as abnormal deformation of the foam.

This warranty takes effect from the date of delivery.

The products sold are also covered by a commercial guarantee aimed at guaranteeing their conformity and ensuring the reimbursement of the purchase price, the replacement or repair of the goods. It does not cover defects caused by abnormal or faulty use or resulting from a cause unrelated to the intrinsic qualities of the products.

For more information, go to the general conditions of sale.
How does the return go if it does not suit me during the trial?

We suggest that you be able to try the pillow for 14 nights from the date of delivery.

If the pillow still does not suit you after 14 days, we offer you the return!

You will be refunded in full within 24/48 hours after receipt of the product in good general condition.

Don't worry about anything and make the most of your mattress topper!

For more information, see the general conditions of sale .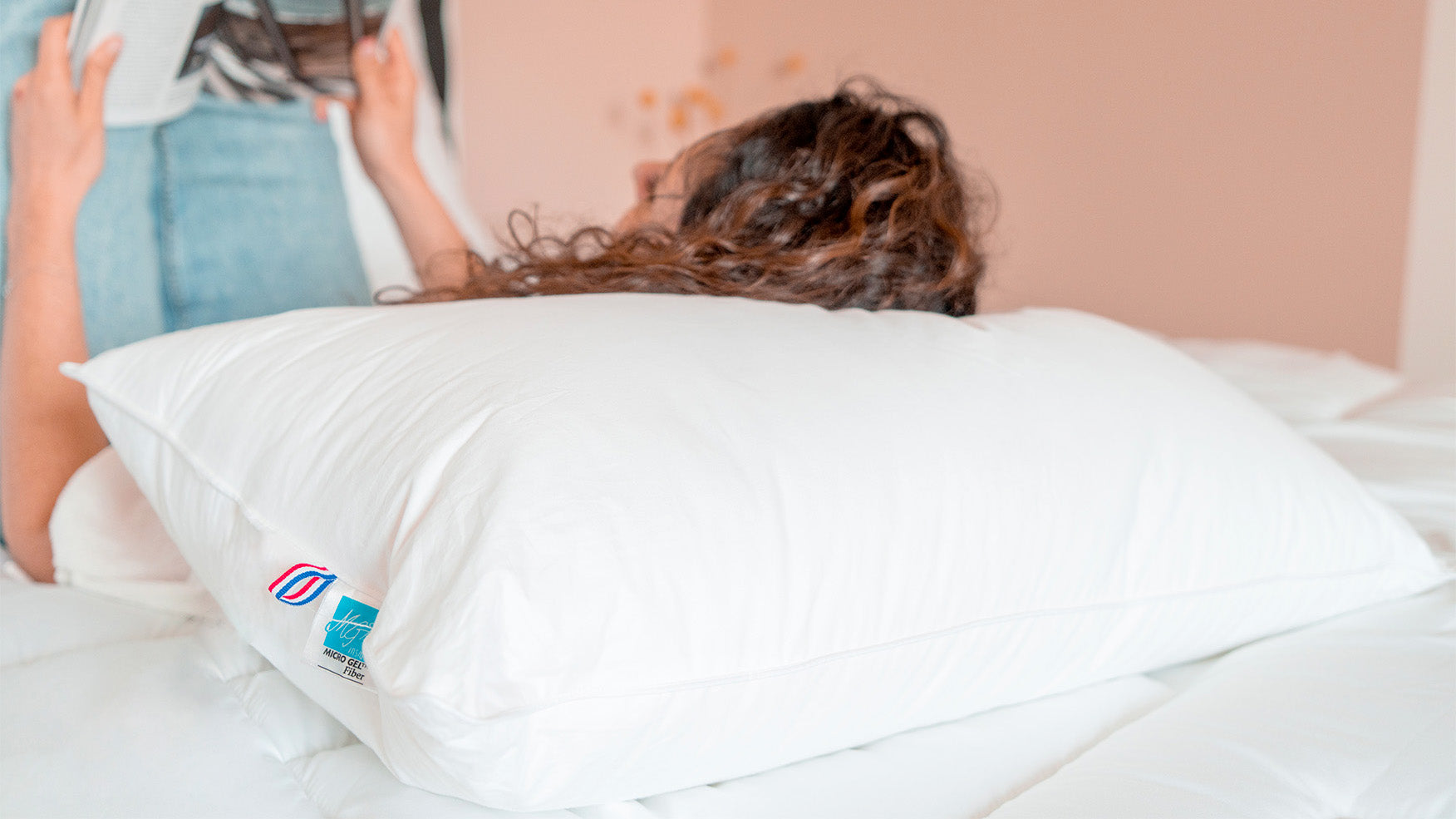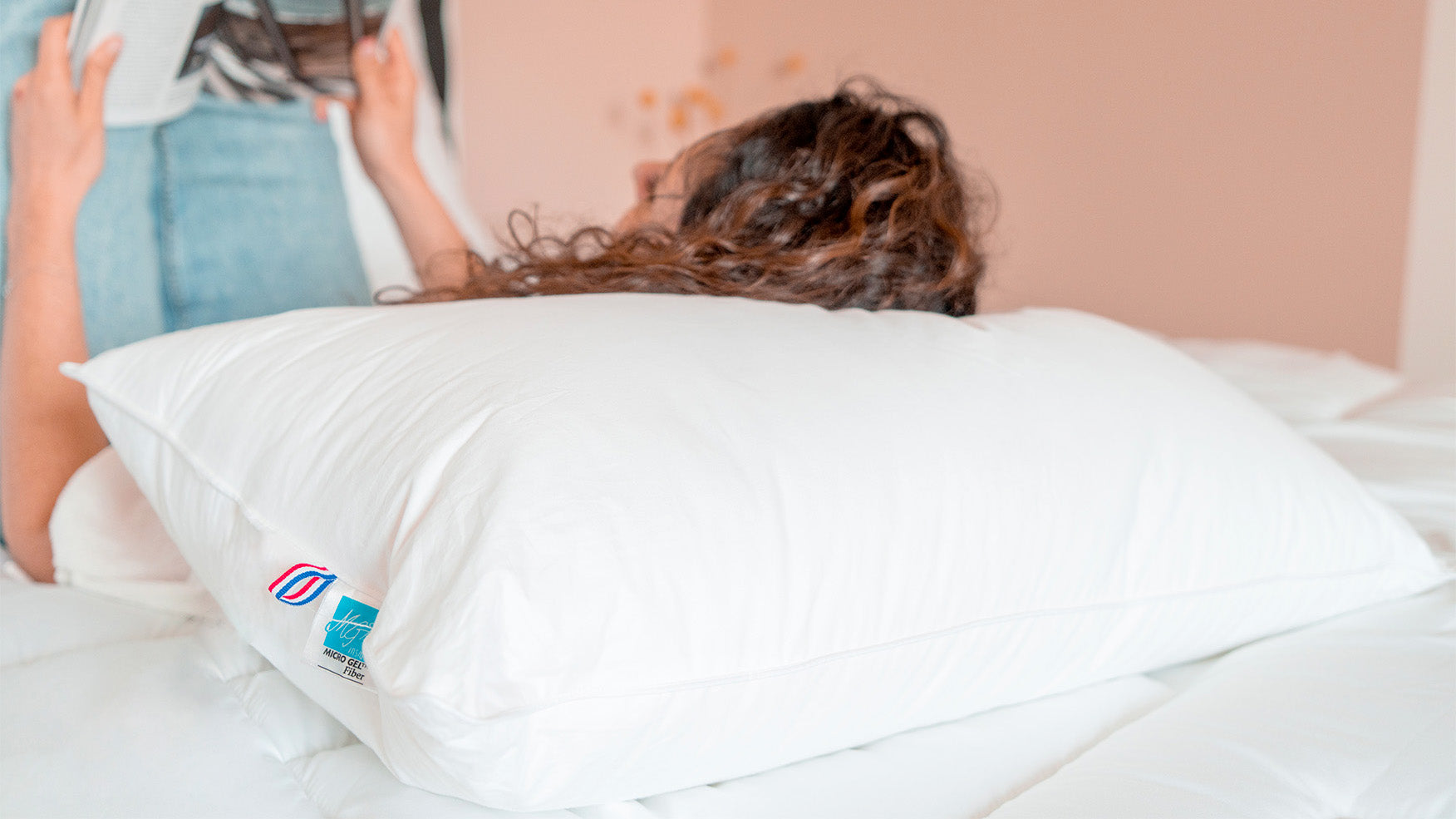 100% polyester MicroGel™ filling
100% cotton quality percale cover
Nothing is left to chance
This product is rated 4.9 of 5.0 stars.
It has received 7 reviews.
Confortable
Plusieurs semaines d'utilisation avant de donner un avis. Il est vrai que mes douleurs cervicales ont nettement diminué. Je ne me réveille plus avec la nuque raide. Il est moelleux mais soutien suffisamment la tête. +++
Heureux d'apprendre que vos douleurs ont pu diminuer grâce à notre oreiller.
oreiller cervicales au top très bon maintien
Nous vous remercions pour votre avis !
TOP
Après plusieurs semaines de test, cet oreiller est top. J'avais des grosses tensions au niveau du cou/épaules et omoplates. Etant 10h par jour assise devant un ordi, la douleur était difficilement supportable. Au bout de quelques jours, les douleurs avaient diminuées de 80%. Pourtant j'étais dubitative quand je l'ai reçu vu qu'il est très mou. Ça fait des années que je teste plusieurs oreillers spécial cervicales à mémoire de forme. C'est le seul qui m'a soulagée. Pourvu que ça dure.... Et niveau relation clients, 10/10
Nous sommes heureux d'avoir pu soulager vos douleurs, en vous remerciant pour ce bel avis.
Enfin j'ai découvert à quoi servait un oreiller !
Moelleux et confortable à souhait...maintenant je sais ce qu'est un oreiller.
Le reveil est doux et sans courbatures.
Je conseille vivement.
Merci pour votre avis, nous sommes ravis que cela vous plaise !
Oreiller douceur
Bon confort pour cet oreiller, peut-être un peu trop gros..
Merci pour votre retour, nous notons votre suggestion !