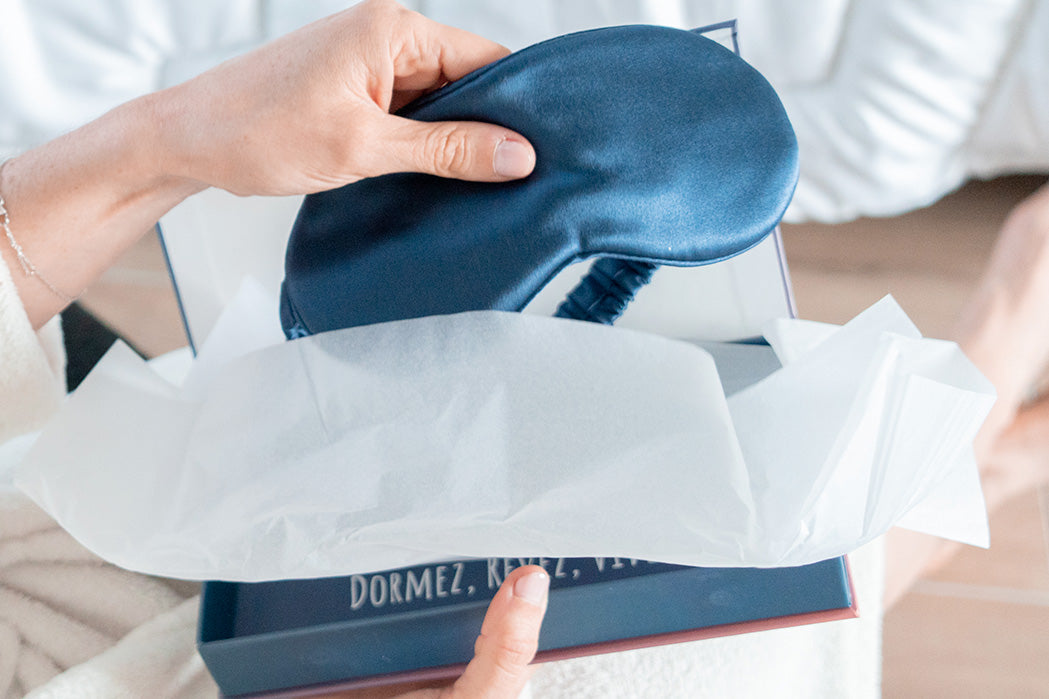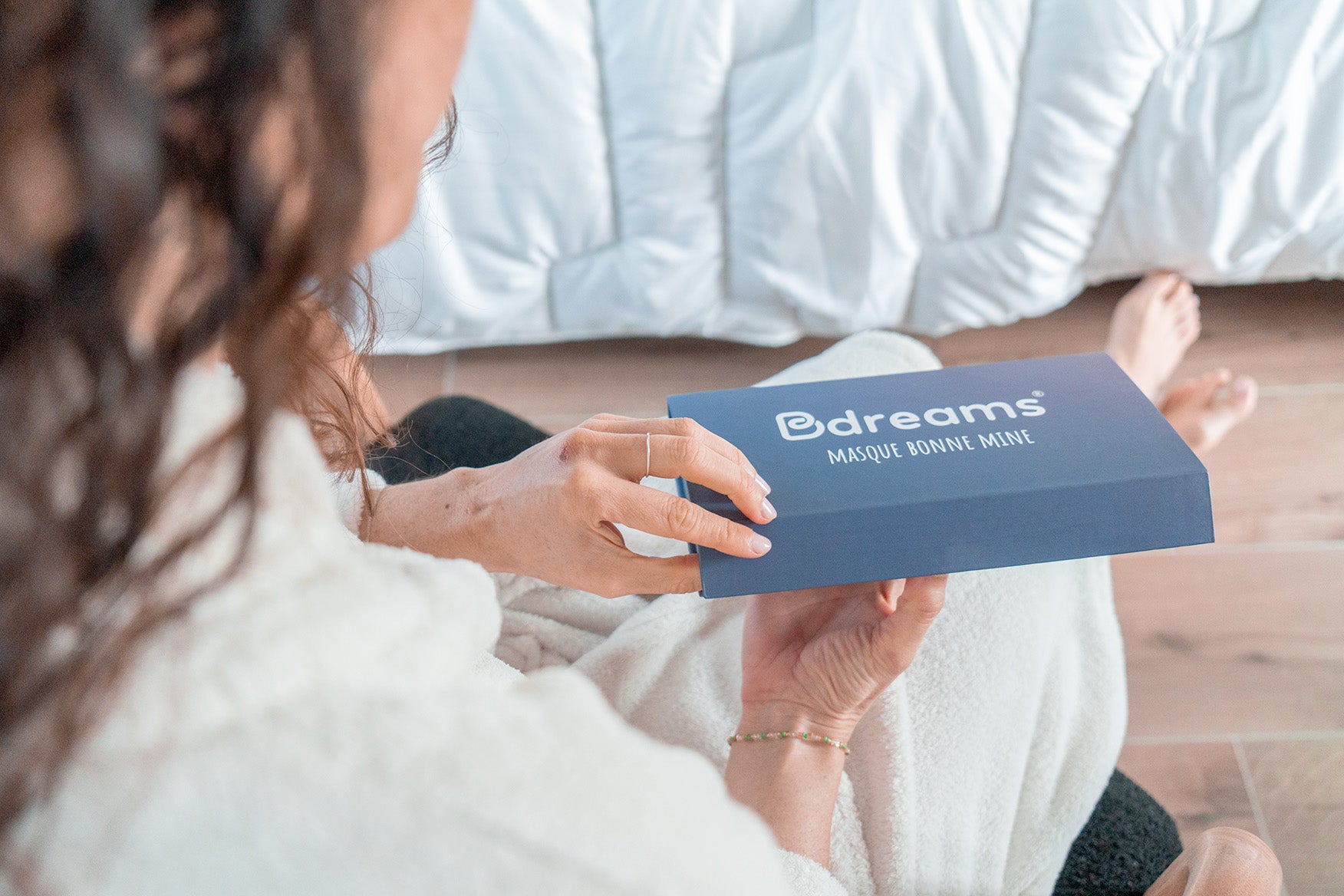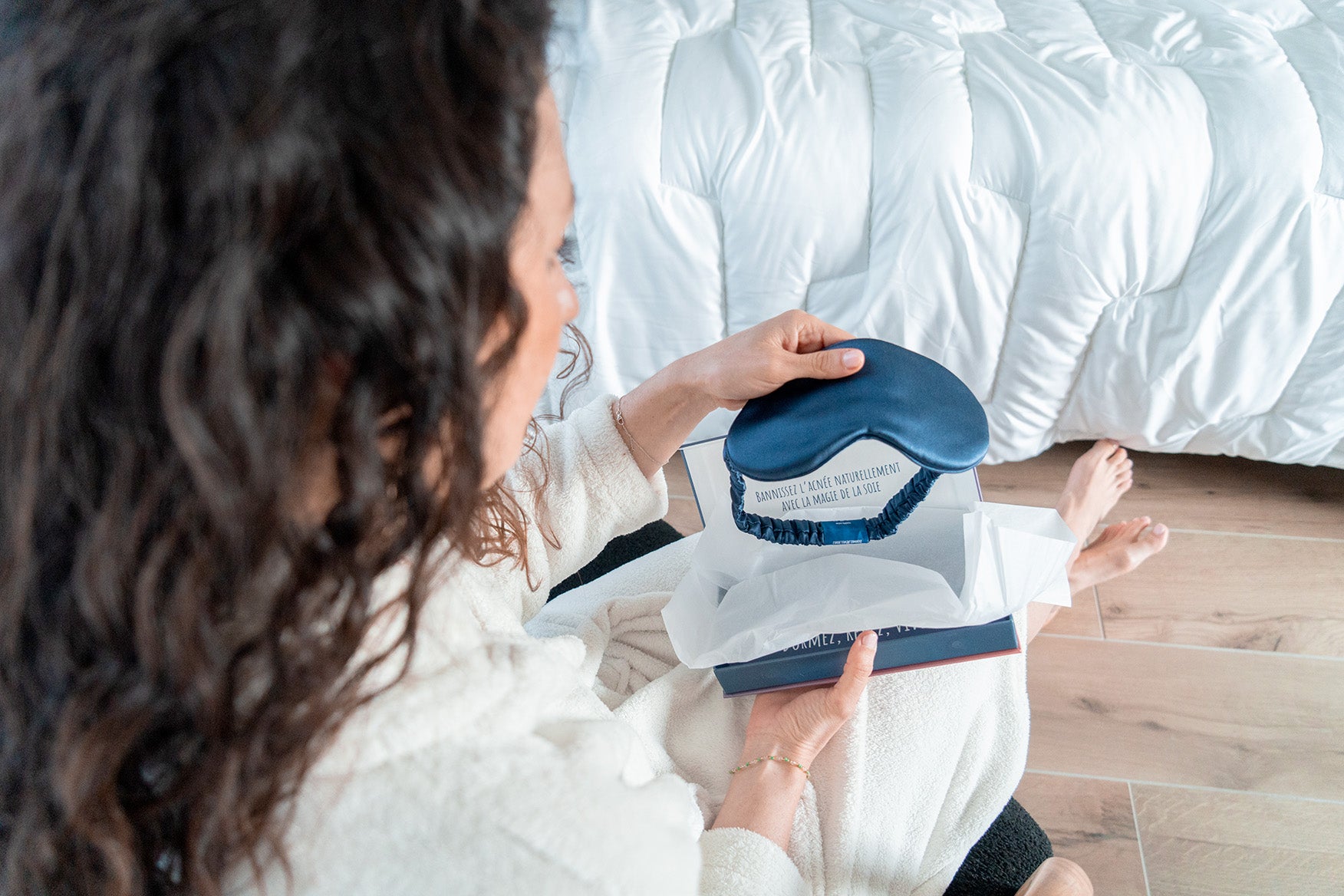 Healthy Glow Night Mask
The perfect night mask for frequent travelers or nap lovers!

This ultra soft night mask will caress your skin and your eyes to cause no irritation. 100% mulberry silk , it helps your skin stay hydrated throughout your sleep and maintains essential collagen to treat acne and give your skin a natural glow. Good night !

Exists only in midnight blue version - One size
It is suitable for all head sizes but only for adults.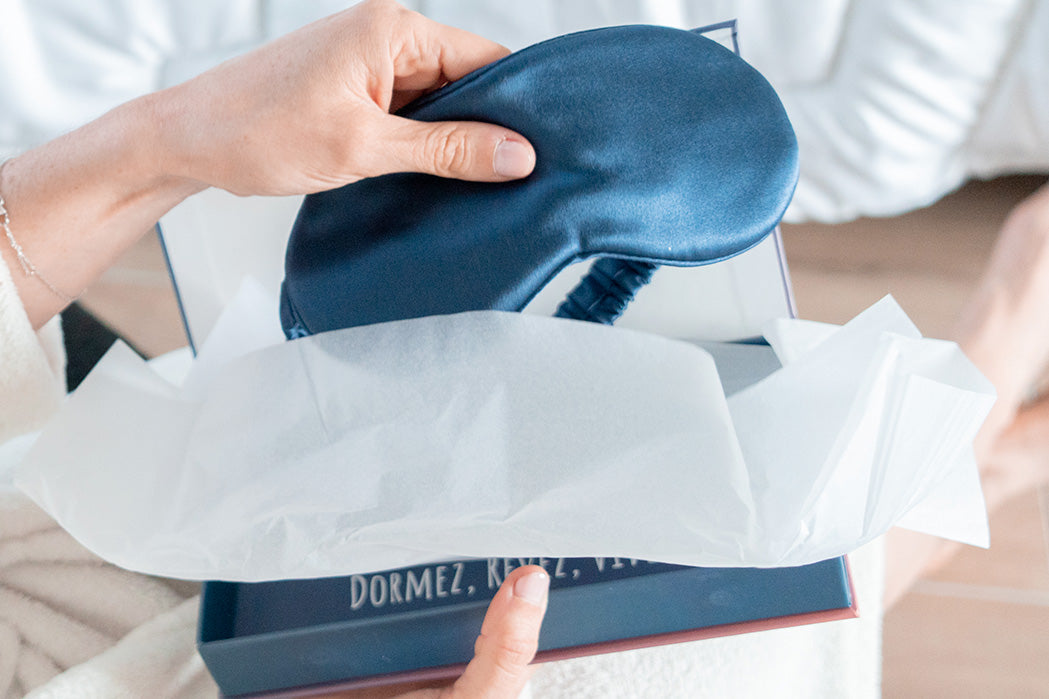 For further
The silk night mask completes our range of bed linen, a constantly evolving range consisting of a duvet, pillowcase, and a waterproof fitted sheet.
What is the composition of the mask?

Fabric: 100% mulberry silk, OEKO-TEX certified
Silk density: 94.7232 g/m²
Size: unique thanks to the elastic head circumference
What is its particularity?

The Bdreams night mask has benefited from an anti-bacterial treatment based on silver nanoparticles known for their anti-bacterial and anti-fungal properties. They limit the spread of bacteria responsible for irritation and acne by 99%.

The mulberry silk that makes up this mask helps to maintain hydrated and breathable skin throughout sleep and thus restores its radiance.
Silk being delicate, hand washing in cold water is recommended.

Do not tumble dry and do not iron.

Wash your mask every 15 days to keep its properties.
How many years is it guaranteed?

All Bdreams® bed linen products are guaranteed for 2 years , a commercial guarantee covering any material or manufacturing defect.

This warranty takes effect from the date of delivery.

The products sold are also covered by a commercial guarantee aimed at guaranteeing their conformity and ensuring the reimbursement of the purchase price, the replacement or repair of the goods. It does not cover defects caused by abnormal or faulty use or resulting from a cause unrelated to the intrinsic qualities of the products.

For more information, go to the general conditions of sale .
How does the return go if it does not suit me during the trial?

Like all products in the bed linen category, we offer a 14-night trial from the date of delivery. If the product still does not suit you after 14 days, we offer you the return!

You will be refunded in full within 24/48 hours after receipt of the mattress in good condition.

For more information, visit the FAQ page .
I received my healthy glow mask 4 days ago. Since then, I take a nap every day with this one. I am very satisfied ! The touch is extremely soft and soothing! I highly recommend it ! Have a good nap everyone!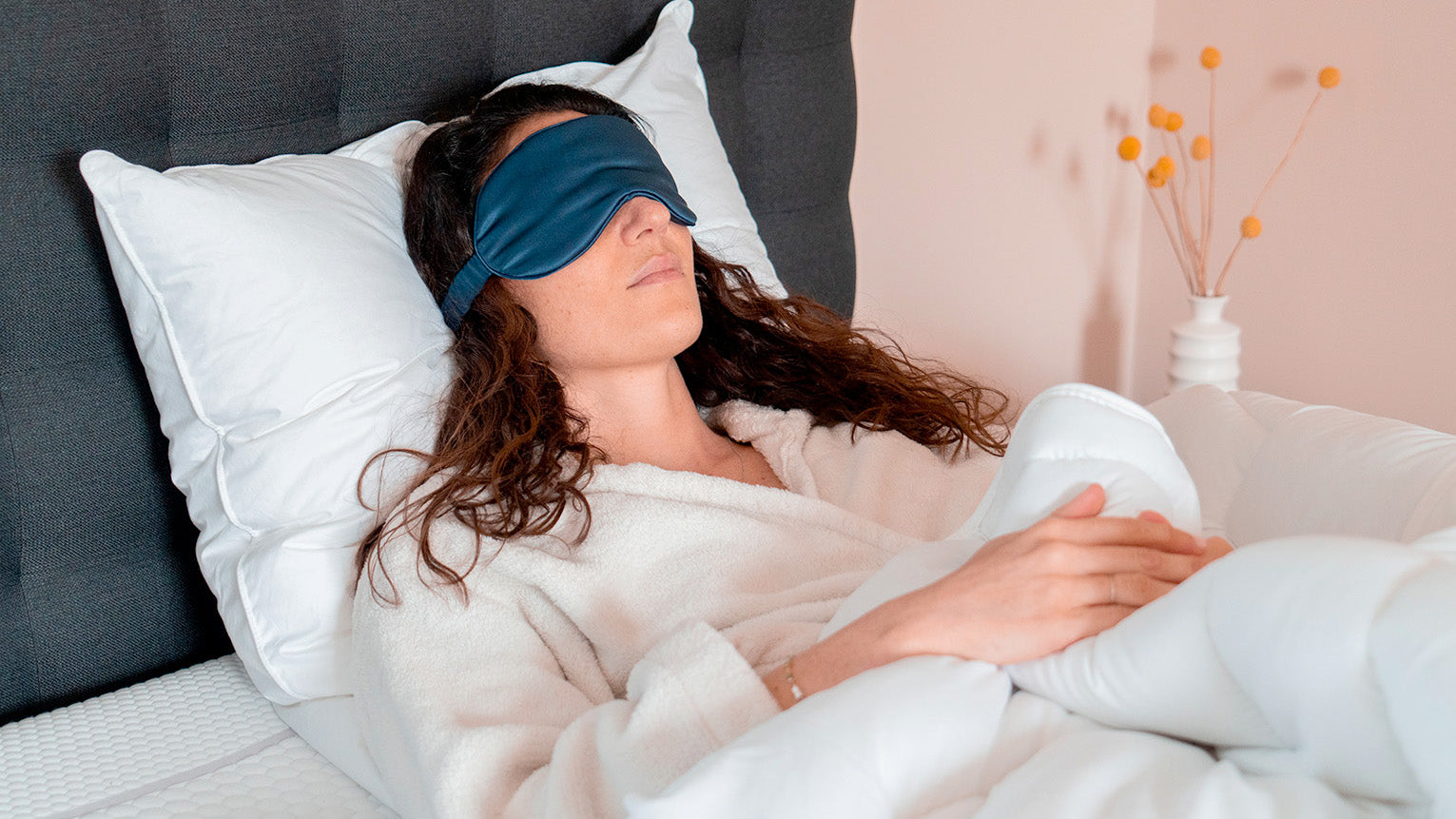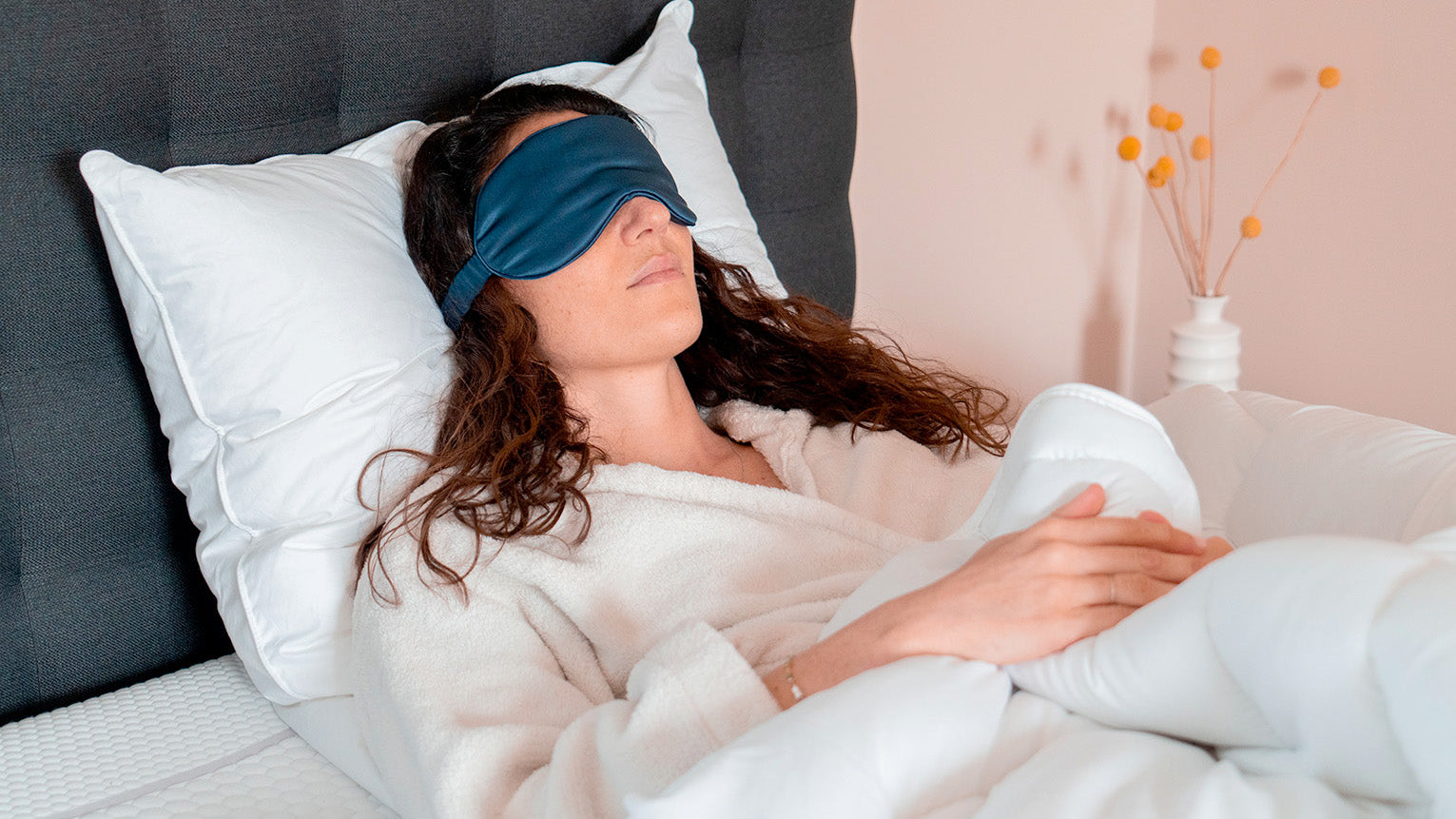 Aesthetic
Comfortable and aesthetic, the mulberry silk mask will accompany you for all your naps!
This product is rated 4.5 of 5.0 stars.
It has received 2 reviews.
masque de sommeil en soie
Douceur et souplesse sont bien présentes, cependant l'échancrure du nez n'est pas assez profonde pour la morphologie de mon nez et je trouve un inconfort à le mettre
Merci pour votre retour, nous prenons bonne note de l'ajustement a apporter au masque.
Le masque bonne mine
J'ai reçu mon masque bonne mine il y a 4 jours. Depuis, je fais une sieste tous les jours.avec celui-ci. Je suis très satisfaite ! Le toucher est extrêmement doux et apaisant ! Je le recommande vivement ! Bonne sieste à tous !
Toute l'équipe Bdreams vous remercie pour votre message.
Et bonne sieste à vous !